All time favorite 10 Best Chicken Appetizers – Simply delicious!
I am an avid chicken lover. And appetizers make my food interesting. So anywhere and everywhere I go I make it a point to try out different appetizers on their menu. Here is a collection of 10 best chicken appetizers from some traditional and modern cuisines of the world.
1. Crispy Chicken Fingers
Chicken Fingers flavored with garlic and mustard are made crisp by covering them with flaky crumbs.
Ingredients:
4 boneless and skinless chicken breasts; cut into long fingers,
2 eggs; beaten,
1 tsp garlic powder,
1 tsp onion powder,
1 tsp ground mustard,
1 tsp seasoning salt,
Bread crumbs or cornflake crumbs to coat,
Oil for frying.
Method:
Season egg with garlic, onion, mustard and little salt. Whisk well and then dip the chicken fingers into it. Let the chicken marinate into the egg mixture for few hours in the refrigerator. At the time of preparation, mix the bread crumbs or cornflake crumbs and some seasoning salt on a sheet or dish. Spread it and then roll each finger into this and keep aside. Meanwhile heat oil in a wok for deep frying on medium flame. Drop few fingers into the oil and fry on low-medium flame till crisp and golden brown. Similarlry prepare all the chicken fingers.
You can also choose to bake these chicken fingers. Preheat the oven at 400°F (205°C) oven for 5 minutes. Then arrange the chicken fingers on a cookie sheet and then bake them at the same temperature for around 7-8 minutes. Turn them over and again bake for 6-7 minutes until chicken is crisp and golden.
Serve hot with chilli sauce or coriander dip.
2. Sesame Parmesan Chicken
The cheesy combination of Parmesan, beautiful herbs and sesame seeds make this recipe unbeatable.
Ingredients:
4 chicken breasts (boneless and skinless),
1/4 cup lightly roasted sesame seeds,
1/4 cup parmesan cheese,
2 tsp dried mixed herbs or Italian sesoning,
1 tsp garlic salt,
1 cup bread crumbs,
1 egg; beaten.
Method:
Preheat the oven to 350-400 d F or 175-200 d C.
Combine all the ingredients except egg, in a shallow dish. Then dip each chicken breast into the egg and then into the bread crumb and cheese mixture to coat well and arrange into a baking dish. Then bake the chicken for 15-20 minutes in the preheated oven. The chicken should turn nice golden brown in color.
3. Crisp Salsa Chicken
An innovative dish made of crisp baked chicken topped with Tomato Salsa and Ricotta.
Ingredients:
For the chicken-
2 boneless chicken breasts; flattened and halved,
1 tsp oregano or dry herbs,
Salt and pepper to taste,
1 tsp vinegar,
1 tsp olive oil.
For the topping-
Hot tomato salsa as per taste,
Grated ricotta or cheddar cheese as per taste,
Green or black olives (sliced) if you like.
Method:
Marinate the chicken pieces with all the ingredients for an hour. Preheat the oven at 400 degrees F or 200 degrees C for 10 minutes. Then place them on to a baking dish and bake them at 170 degrees or around 90 degrees C and bake for 20 minutes. You can also opt to fry the chicken in little olive oil.
When done, arrange on the serving dish, top with salsa and cheese. Season with little dry herbs if you like.
4. Tandoori Chicken
This is a famous Indian chicken preparation, originated in the Punjab region. It is marinated with yogurt, ginger-garlic paste, tandoori masala (spice) and cooked in a clay oven called 'tandoor'. The recipe is unique because of its red color, smoky flavor and ofcourse the spicy taste.
These days this recipe could be prepared at home on grills. But for real tasty Tandoori chicken you must visit a road-side 'dhaba' (restaurant) in North-India, though it is available throughout India and now all around the world.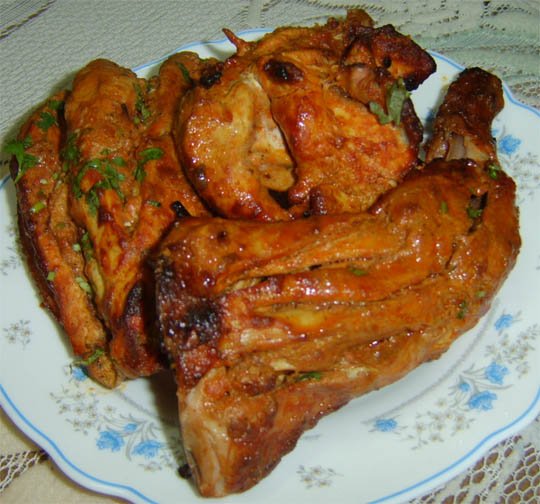 Ingredients:
1 medium size chicken (800-900 gms); cut into serving size pieces,
1/2 thick hung yogurt,
2 tbsp thick cream,
2 tbsp ginger-garlic paste,
2 tbsp lemon juice,
1/4 tsp turmeric powder,
1/2 tsp red chilli powder,
1 tsp ground cumin,
1-2 tsp tandoori masala,
1/2 tsp rock salt,
Few drops of red food color,
Chat masala to taste,
Salt to taste,
Vegetable oil for basting,
Sliced onion, cucumber, tomatoes, shredded cabbage and lemon slices to garnish.
Method:
Make some incisions or prick the chicken pieces with fork to allow the marinade to penetrate inside the chicken. Rub them with lemon juice and salt and set them aside for 20 minutes. In a bowl, mix together all other ingredients and then marinate the chicken pieces in this marinade. Refrigerate the marinated chicken for 4-5 hours or overnight for best results.
To grill in the oven, preheat it to 450 degrees F (225 degrees C) and place each chicken pieces (remove extra marinade if any and reserve for basting) on the grill. Grill the chicken at same temperature for 20-25 minutes or until chicken is tender and juicy. Baste with marinade and oil at equal intervals. Serve hot with sliced onion, cucumber, tomatoes, shredded cabbage and mint, coriander and mayonnaise dip or chutney.
5. Sicilian Chicken
The beauty of this recipes lies in the thick sauce made of mushrooms, pimento stuffed green olives, peppers and Italian style stewed tomatoes, that is poured over fried chicken.
Ingredients:
4 boneless and skinless chicken breasts;
1/2 cup Parmesan cheese,
2-3 tbsp flour,
1 cup mushrooms; sliced,
1/4 cup pimento stuffed green olives,
1/4 cup chopped peppers (optional),
2 scallions (with greens); finely chopped,
1 (approx 14oz) can of Italian Style stewed tomatoes,
1/2 tsp dried rosemary,
1 tsp dried oregano,
Salt and pepper to taste,
Olive oil.
Method:
Season chicken breasts with salt and pepper and set aside for 10 minutes. In a shallow dish mix half quantity of cheese, flour, oregano and then coat the chicken breasts in this mixture. Heat oil in a skillet and cook the chicken in it on medium flame until chicken is tender. When done transfer to a serving dish. In the same skillet, add onions, mushrooms, olives and rosemary and cook until mushrooms become soft. Then add the tomatoes, stir, cover and cook till tomatoes soften. Uncover and cook until the mixture thickens. Then pour it over the chicken breasts, top with remaining cheese and serve over any pasta.
6. Italian Garlic Chicken
A simple recipe yet rich in flavor.
Ingredients:
2 skinless and boneless chicken breasts; halved,
1 tbsp crushed garlic or garlic powder,
2-3 tbsp dry bread crumbs,
1/4 cup Parmesan cheese; shredded,
A pinch of rosemary and salt to taste,
2-3 tbsp Olive oil.
Method:
Combine olive oil and garlic and warm them. Do not boil. Cover and set aside for few minutes. Meanwhile mix bread crumbs, rosemary, salt and cheese and spread it in a shallow dish. Now place the chicken breasts in a bowl and pour the garlic flavored olive oil over it. Cover and let then chicken marinate into the oil for 30 minutes. Later preheat the oven to 350 degree F (175 degree C) and bake the chicken on each side for around 15 minutes or till chicken is tender and juices run clear. Serve with spaghetti.
7. Quick Fried Thai Chicken
A quick recipe of fried chicken – Thai way.
Ingredients:
400gms boneless and skinless chicken; cut into stripes,
15 mushrooms; halved,
1 green pepper; cut into cubes,
1 red pepper; cut into cubes,
7-8 fresh red chillies; thinly sliced,
2-3 scallions with the green; chopped,
2 tbsp finely chopped garlic,
2″ piece ginger; finely chopped,
1 tsp sugar,
2 tbsp fish sauce (or as per taste),
3 tsp dark soy sauce (or as per taste)
Olive oil,
Salt and pepper to taste.
Method:
Heat a skillet and add a generous amount of oil to it. Add garlic, ginger and scallions and fry for 2 minutes on medium flame. Now add the chicken, season with salt and pepper and saute for few minutes. Reduce the flame, add mushrooms, peppers, chillies, fish sauce, soy sauce and sugar. Stir well and cook till chicken is tender. Serve hot as an appetizer.
8. Chicken Tikka (Murgh Tikka)
This is a famous chicken appetizer from Indian cuisine. 'Chicken tikka' is made of soft boneless chicken bits marinated in spicy, creamy and tangy marinade and cooked till smoky and tender. This dish is loved by all. So get goin with this recipe prepare the same mouthwatering tikkas you have in restaurants. Happy Cooking!
Ingredients:
500 gms boneless, skinned chicken breast,
1 tsp salt,
Juice of 1/2 a lemon,
1/2 tsp. tandoori color or a few drops of red food coloring mixed with 1 tbsp. tomato puree,
2 cloves garlic, peeled and coarsely chopped,
1/2-inch cube of root ginger, peeled and coarsely chopped,
1/4 of a whole nutmeg, finely grated,
1/2 tsp turmeric powder,
3/4 tsp. chili powder,
1/2 tsp garam masala,
2 tbsp fresh coriander leaves, chopped,
150 gms thick yogurt,
4 tbsp vegetable oil.
Method:
Cut the chicken into 1-inch cubes. Sprinkle with 1/2 teaspoon salt and lemon juice. Mix thoroughly. Cover and keep aside for 30 minutes.
Put the rest of the ingredients into an blender or grinder and blend until smooth. Put this marinade into a sieve and hold the sieve over the chicken pieces. Press the marinade through the sieve with the back of a metal spoon until only a very coarse mixture is left.
Coat the chicken thoroughly with the sieved marinade. Cover the container and leave to marinate for 6-8 hours or overnight in the refrigerator.
Preheat oven to 230 degrees C/450 degrees. Place an aluminum foil in a roasting tin (this will help to maintain the high level of temperature required to cook the chicken quickly without drying it out).
Arrange the chicken onto skewers, leaving around 1/4-inch gap between each piece (this is necessary for the heat to reach all sides of the chicken).
Place the skewers in the prepared roasting tin and brush with some of the remaining marinade. Cook in the center of the oven for 6-8 minutes.
Take the tin out of the oven, turn the skewers over and brush the pieces of chicken with the remaining marinade. Return the tin to the oven and cook for a further 6-8 minutes.
Shake off any excess liquid from the chicken. Place the skewers on a serving dish. You may take the tikka off the skewers if you wish, but allow the meat to cool slightly before removing from the skewers. 
TIP:
Any excess liquid from the Chicken Tikka could be kept aside to be used as tikka masala.
9. Spicy Chicken Bits
An innovative recipe made out of sausages with a little Indian touch.
Ingredients:
5 Chicken Sausages,
2 tsp ginger-garlic paste,
1/2 tsp green chilli-coriander paste,
2 tsp red chilli powder,
1/2 tsp garam masala,
1 tsp lemon juice,
1/2 tsp chat masala,
4-5 tbsp Oil.
Method:
Cut the chicken sausages into thick slices or bits. Add ginger-garlic paste, red chilli powder, garam masala, chat masala and lemon juice to these chicken bits and let them marinate for some time. Heat a kadhai (wok), add oil and let it heat. Then add a pinch of asafoetida and then add the marinated chicken. Mix and cook stirring occasionally for 3-4 minutes. Decorate the serving dish with lettuce leaves, spring onions and tomato slices and transfer the chicken bits to the dish and serve as a starter or snack.
10. Cheese Chicken Balls
These cheesy chicken balls instantly revive your taste buds.
Ingredients:
250 gms boneless chicken,
Cheddar cheese, grated (quantity as per your choice),
8-10 slices of bread(brown or white),
1 tsp black pepper powder,
1/2 tsp lemon juice or vinegar,
1/2 tsp red chilli flakes,
1 tbsp soy sauce,
2 eggs,
Salt to taste.
Method:
Boil the chicken and shred it. Drain and keep aside. Meanwhile in a bowl mix all the ingredients except, bread slices, eggs and bread crumbs. Marinate the chicken in this mixture for 1 hour. Refrigerate marinated chicken for better effects.
Dip the slices on bread in water for half a minute, squeeze to remove excess water, place chicken stuffing in this slice and cover well to form a ball with sealed sides. Prepare all the chicken balls similarly. Heat oil in a wok and deep fry these balls at a golden colour. Serve hot with chutney or sauce of your choice.
(Visited 2 times, 1 visits today)