Anjeer Burfi (Fig Fudge)
Anjeer Burfi/Barfi is widely prepared and sold in Indian Sweet Stores. It has a peculiar taste. Those looking for a low calorie sweet, anjeer burfi is a perfect option to satisfy their taste buds, with some modifications to this recipe (given below the original recipe). This delicious recipe is simple and effortless to make. Give it a try!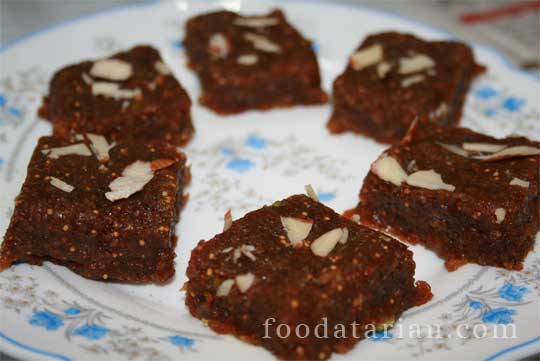 Ingredients:
12 dry anjeer (figs); soaked in warm water for 20-30 minutes,
1/2 cup or more (if required) khoya; roasted for few minutes,
3-4 tbsp mix dry fruits powder,
Powdered Sugar as per taste,
Almond shavings to garnish.
Method:
Grind the soaked anjeer with little water. Use the water in which they were soaked.
In a nonstick pan add the anjeer paste and cook until it thickens and changes color to a darker shade of brown. You can use little ghee (clarified butter) if you like, but since khoya leaves some ghee I do not add any ghee. Later add khoya, sugar if you like and dry fruits powder.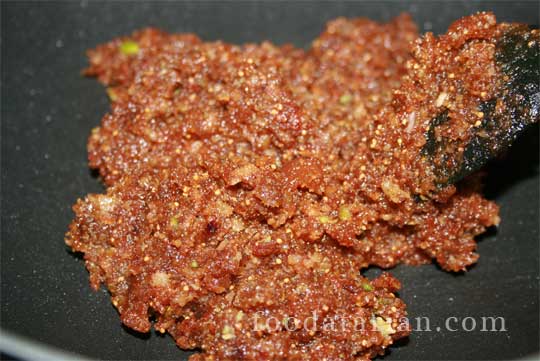 Cook until the mixture comes together to form a ball. Remove from flame and set it aside for 5-7 minutes. Then grease a flat dish. Spread out the mixture onto the greased dish, evenly into a square shape, with medium thickness. See the picture.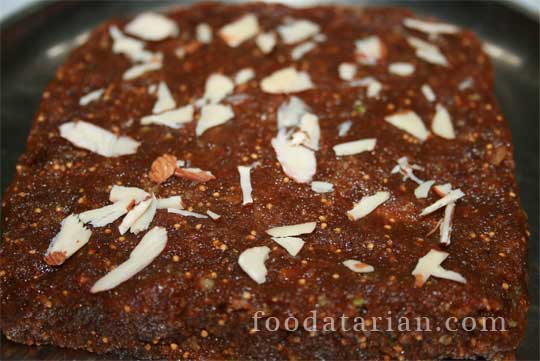 Spread almond shavings on top and set it aside until it cools down. Later cut small burfis and serve.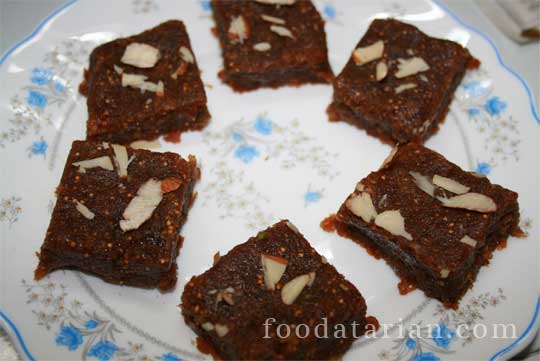 TIPS:
1. Since anjeer are sweet, add little or no sugar.
2. For a low calorie anjeer burfi, do not add ghee, sugar. Khoya can be avoided but since we are using it in less proportion, it can do. Instead of khoya you can also add some 'dink' or 'gondh'. Also avoid cashew nuts in the dry fruit powder, add more almonds instead.
(Visited 53 times, 1 visits today)