Atta Laddu (Kankeche Ladoo)
My family members are fond of having sweets after their meals, although a small portion. Being a working woman I cannot prepare sweets everyday. But whenever I get time, I try out few. I remember my mother used to make similar laddoos when I was a child, but this is not the exact recipe. I just tried this one, and it turned out well.
Ingredients:
2 cups atta (whole wheat flour),
1 1/4 cup thick poha (flattened rice),
2 cups grated/powdered jaggery,
1/2 cup powdered sugar,
1 tsp ground elaichi,
1/4 – 1/3 cup of melted ghee.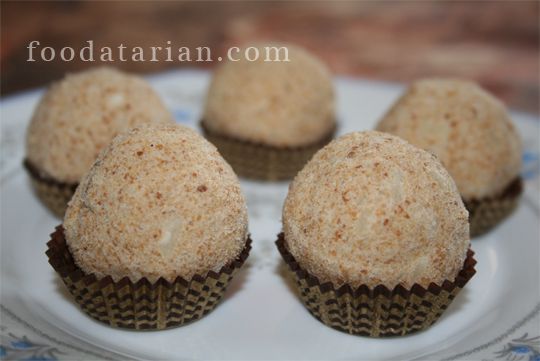 Method:
Melt 2-3 tbsp of ghee in a kadhai and add poha. Roast stirring on low-medium flame until they become crisp. Transfer them in to a dish. In the same kadhai add some more ghee and add atta. Roast stirring continuously until it is fragrant and turn light pink. To this add jaggery and keep mixing until jaggery melts. Meanwhile, using your fingers lightly crush the roasted poha. Do not crush them into a powder, we would want the laddus to give a crispier texture. Add sugar, elaichi powder to the flour mixture along with crushed poha. Stir well until mixed properly. Add remaining ghee, stir and let it cool down at room temperature. Later roll into laddus. You can store them into airtight containers for a week.
(Visited 35 times, 1 visits today)