Aubergines in Yogurt Curry
A curry in a hurry, yet simple and delicious.
Ingredients:
2 medium size aubergines/eggplants/brinjals; thinly sliced,
Salt and red chilli powder to taste,
Oil for frying.
For the sauce –
2 cups of yogurt,
1/2 tsp mustard seeds (rai),
1/4 tsp cumin seeds (jeera),
2-3 tsp sugar,
4-5 cloves,
1/2 tsp red chilli powder,
Salt to taste,
1-2 tbsp chopped coriander leaves,
Ghee for tempering.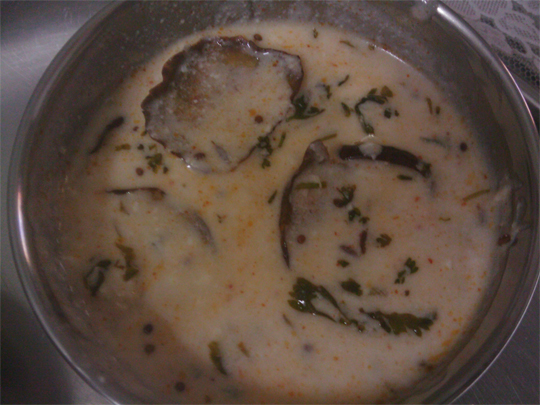 Method:
Heat oil in a frying pan and fry the aubergine slices until they become golden brown on both sides. Season with some salt and red chilli powder.
Meanwhile beat yogurt with sugar and salt, till smooth and sugar is dissolved.
Heat oil in a wok (kadhai), add ghee. When hot add mustard seeds, let them splutter, then add cumin, cloves, red chilli powder, coriander leaves and roast for a minute. Pour the yogurt mixture into it, mix well and add the fried aubergines to it. Cook for a minute. Do not boil it and put off flame. Serve hot.
(Visited 6 times, 1 visits today)