Babycorn Green Peas Masala
Ingredients:
200 gms babycorn; boiled and cut into small pieces,
200 gms shelled green peas,
1 large onion; finely chopped or ground to paste,
5-6 cashew nuts,
1 tomato,
1/4 tsp turmeric powder,
1/2 tsp red chilli powder,
1/2 tsp garam masala,
Salt to taste,
Oil for tempering,
Water,
2 tbsp cream (well beaten) to garnish.
Method:
In a kadhai/pan, heat some oil. Add chopped/ground onion to it. Saute until onion turns light brown in color. Meanwhile in a grinder, grind together tomato and cashew nuts. When onion is sauted, add turmeric and red chilli powder. Mix and fry for a minute. Then add the tomato + cashew nut paste to it and cook until tomato puree is cooked and the mixture starts leaving oil from the sides of the kadhai/pan. To this, now add shelled peas, combine and add little water to cook them. Cover and cook until peas are tender. Then add the chopped babycorn, salt and cook for 5 minutes. Remove from flame. Transfer to a serving bowl, add beaten cream and serve hot with parathas or butter rotis.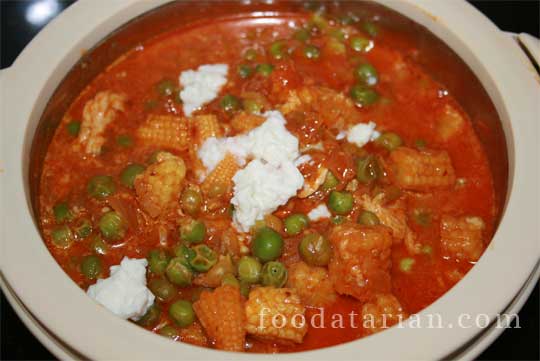 (Visited 4 times, 1 visits today)