Bhindi Do Pyaza
Ingredients:
1/2 kilo bhindi; slantly chopped into medium slices,
2 large onions; diced into 1/4″ pieces,
1 large tomato; diced into 1/4″ pieces,
1/4 tsp turmeric powder,
1 tsp red chilli powder,
Salt to taste,
Oil for frying.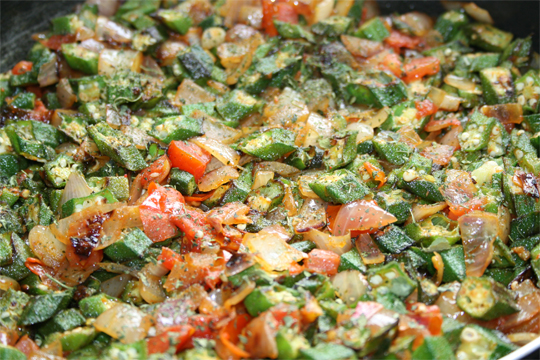 Method:
Heat 2-3tbsp oil for frying and add half quantity of bhindi slices to it. Fry on low-medium flame until tender and cooked. Drain and set aside. Similarly add more oil and fry remaining bhindi. Drain. In the same kadhai add more oil if required and add onion to it. Saute until soft. Then add tomatoes and cook for 2-3 minutes. Then add turmeric powder, red chilli powder and cover and cook for few minutes. Then add the fried bhindi to it, sprinkle salt, cover and cook for 2-3 minutes on medium flame. Stir occasionally. Serve with parathas or dal-rice.
(Visited 8 times, 1 visits today)