Cheese and Spinach Cutlets
Cheese and Spinach cutlet is a delectable snack that is baked and not fried. Ricotta, cheddar combined with spinach seasoned with mustard and garlic, coated with bread crumbs make these cutlets irresistibly delicious.
Ingredients:
A small bunch (around 200-250 grams) of Spinach leaves or use same half quantity of frozen spinach,
100 grams Ricotta cheese; crumbled,
100 grams Cheddar cheese; shredded,
4-5 garlic cloves; minced,
1 tsp Dijon mustard,
Salt and pepper to taste,
Bread crumbs to coat,
Olive oil.
For the covering –
4-5 potatoes; boiled, peeled and grated,
1-2 tbsp plain flour,
Salt to taste.
Method:
In a pan, heat some olive oil. Add minced garlic and sauté just until fragrant. Add spinach and cook until leaves become tender. If using frozen spinach cook for 2 minutes. Then add mustard, season with salt and pepper and stir. Add Ricotta cheese, mix well and remove from flame. Then add cheddar and cover. Cheese will melt due to the heat.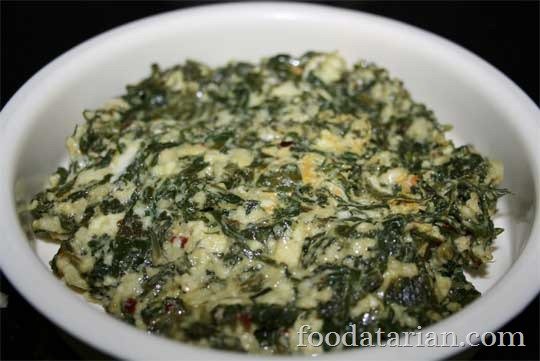 Meanwhile mix together potatoes, flour and salt. and lightly knead into a dough.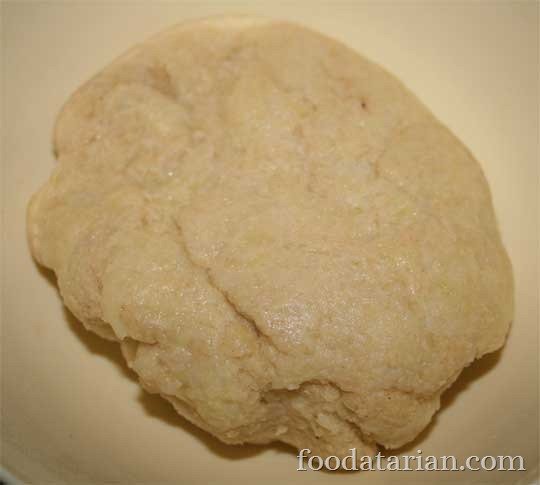 Divide the stuffing and dough into equal numbers. Grease your fingers and palms with oil. Take a portion of potato mixture, flatten it in the shape of a round  (See picture below) and place a portion of stuffing in the center.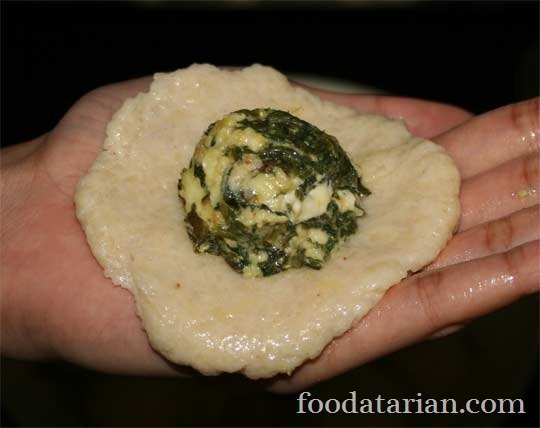 Cover the open sides to seal it. Lightly press and make sure it is sealed.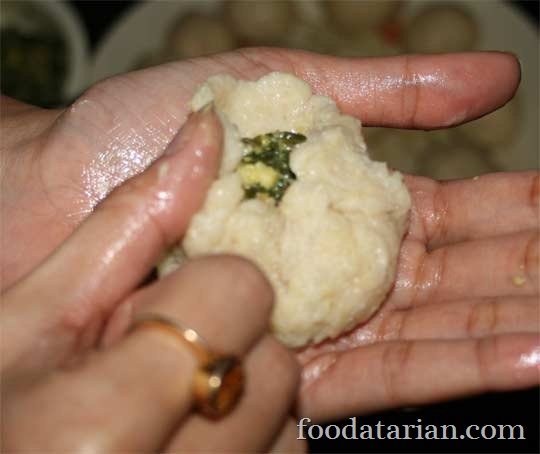 Prepare all the balls similarly.
Spread bread crumbs into a shallow plate. Season the crumbs if you like. Dip each ball into the bread crumbs to coat all over. Prepare rest of the balls. Line up in a baking dish and bake in a preheated oven at  for 200° C (400° F) until the crust begins to brown.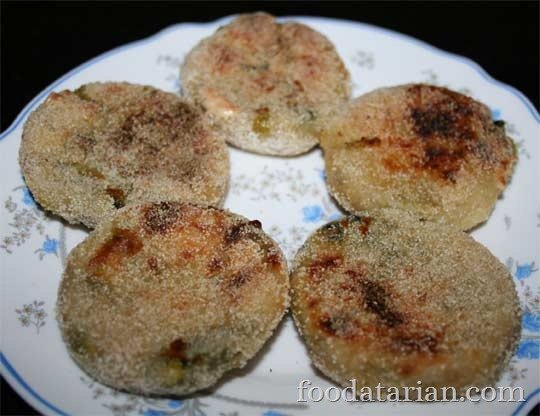 (Visited 16 times, 1 visits today)