Cheese Chicken Quesadilla
This popular Mexican fast-food is full of cheese and chicken wrapped in tortillas.
Ingredients:
2 large tortillas, (corn or wheat)
1/2 cup sharp cheddar cheese; grated,
1/2 cup Monterey Jack cheese; grated,
1 cup boneless chicken; cooked and shredded,
1 clove of garlic, minced,
1/2 onion; chopped,
1/2 tomato; chopped,
1/2 cup chopped green, red and yellow peppers,
1/2 tsp chopped cilantro or coriander leaves,
Salt to taste,
1-2 tbsp butter,
Salsa as per taste.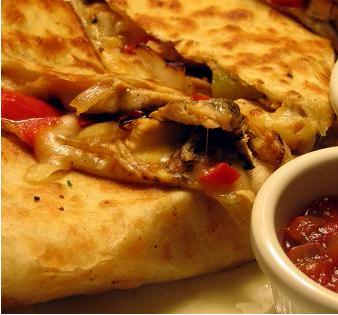 Method:
There are two methods of preparing this quesadilla.
Method I-
In a heavy skillet, melt the butter, add garlic, onion and peppers, saute for few minutes. Add tomatoes,  cooked chicken shreds, cilantro and salt. Give it a nice stir and remove from flame. Add salsa and mix well.
Heat a griddle over medium flame. Grease it with little butter. Place one tortilla on it. Flip over after a minute. Now on this side, on one half on the tortilla (since we have to fold the tortilla), sprinkle half of cheddar and monterey jack cheese, half of the cooked mixture, spread evenly. Leave little space at the edge (to seal), apply little water and then fold the other side over this. Immediately flip the quesadilla, cook from this side for 30 seconds and then transfer it to the serving dish. Similarly prepare the other quesadilla. Using a sharp knife or pizza cutter make 3 equal size pieces of each quesadilla.
Method II-
Preheat oven to 440 D F or 200 D C. Meanwhile in a bowl combine all the ingredients. Divide this filling into two for each tortilla. Place a tortilla in a plate, spread one portion of this mixture on one half of the tortilla, fold the other unfilled side and press together to seal. Similarly prepare the other tortilla and place both on a baking tray. Bake on each side for around 5 minutes or till it turns crisp.
Using a sharp knife or pizza cutter make 3 equal size pieces of each quesadilla.
(Visited 12 times, 1 visits today)