Chicken Burji
Ingredients:
500 gms chicken; (with bones or boneless – as per your choice),
500 gms capsicum,           
2 eggs,
2 tbsp tomato sauce,
1 tbsp soy sauce,
2 tsp pepper powder,
1tsp red chilli powder,   
1 tbsp ginger garlic paste,
1 tsp orange food colour,          
1/4 tsp turmeric powder,
Few curry leaves,
5 tbsp oil.
Method:
In a pan, combine chicken, ginger garlic paste, red chilli powder, turmeric powder, food colour, salt and little water. Place it on a medium flame, cover and cook till all the water dries up. Then put off the flame. Now add egg, pepper, soy sauce, tomato sauce to it, mix it well and keep aside.
Heat oil in another pan, add curry leaves and capsicum to it. Season it with little salt and saute till capsicum is cooked. To this add the earlier prepared chicken mixture, give it a nice stir and cook until chicken in tender and the mixture is dry. Serve hot with parathas.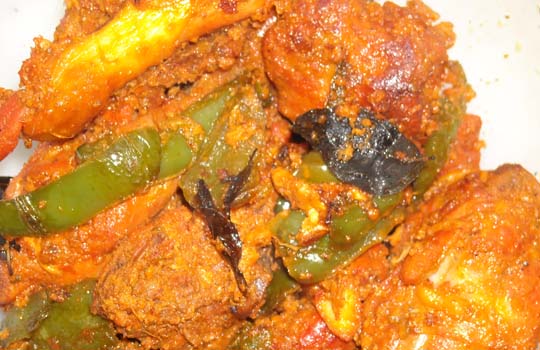 (Visited 15 times, 1 visits today)