Chicken in Green Gravy
The chicken in this recipe is flavored with coriander, ginger and garlic. It is prepared with minimal ingredients that are readily available at home and yet tastes awesome.
Ingredients:
1 kg (or little more) whole chicken; cut into desired size pieces,
2 large onions; finely chopped,
1 large bunch of coriander leaves,
1-2 green chillies (as per taste),
3 small heads of garlic,
4-5 inch pieces of ginger,
1 tbsp of almonds,
2 tbsp of cashew nuts,
Salt to taste,
Juice of 1 lemon,
3 tbsp oil and 2 tbsp ghee for frying,
Water for gravy.
Whole garam masala –
4-5 small pieces of cinnamon,
1 star anise,
4-5 cloves,
4-5 peppercorns.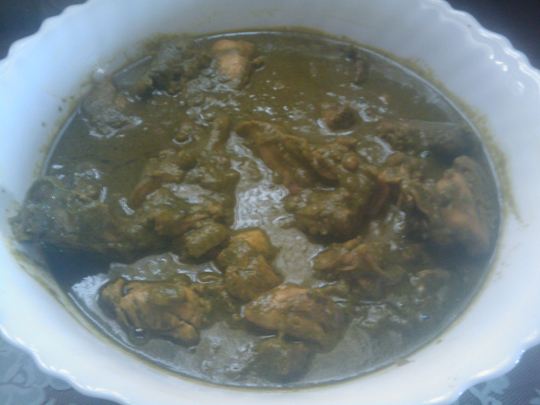 Method:
Grind together ginger, garlic, almonds, cashew nuts, green chillies and coriander leaves to a fine paste. Heat oil and ghee in a kadhai. To it add whole garam masala and chopped onion and saute till onion is soft. Then add the green masala paste to it and cook till it starts leaving oil from the sides of the kadhai. Simmer it until thick. Then add chicken pieces, give it a nice stir, add some water and cover and cook till chicken is soft and tender. Add lemon juice, stir and remove from flame. Serve it with steamed rice, parathas, naan or butter roti.
TIP:
For green fish gravy, prepare same gravy and add your favorite fish to it.
(Visited 9 times, 1 visits today)