Chicken Sukha (Dry Spicy Chicken)
A fairly easy recipe for a dry preparation of chicken. You can follow the same recipe for meat and fish too. The green masala gives a flavor of coriander, mint, ginger and garlic, whereas the onion and coconut gavy adds a nice aroma and spicy flavor to the meat.
Ingredients:
250gms boneless chicken; diced,
1/2 cup green paste (recipe given below),
1 cup onion-coconut paste (recipe given below),
1 tsp red chilli powder,
1/2 cup tomato puree,
Salt to taste,
4-5 tbsp oil,
Chopped coriander leaves to garnish.
For green paste –
1 cup fresh coriander leaves,
1 green chilli (or as per taste),
Few sprigs of mint leaves,
2-3″ pieces of ginger,
5-6 cloves of garlic,
Little water for grinding.
Grind all the ingredients to prepare a smooth paste. You can use this paste in various chicken, mutton or vegetable gravy recipes.
For onion-coconut paste –
2 large onions; thinly sliced,
1/2-3/4 cup dessicated coconut,
Little water for grinding.
Fry both these ingredients separately in some oil until light brown. Do not burn. Then let them cool down before you grind them into fine paste.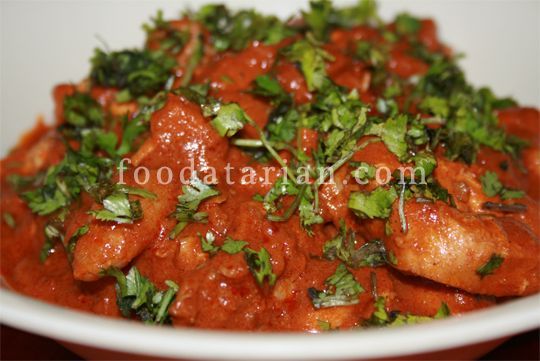 Method:
Marinate the chicken with the green paste and some salt for an hour. Then transfer the marinated chicken into a pan, add some water, enough just to cook the chicken and put over medium flame. Cover and cook until chicken in almost done, say around 10 minutes. Then place a kadhai (wok) over a low flame, add oil (little more than we normally use) and red chilli powder to it. Keep stirring on low flame for a minute. Do not increase the flame as it may cause the red chilli powder to burn. Then add the onion-coconut paste and stir fry properly on low-medium flame for good 5-7 minutes. Now add the tomato puree and cook until the mixture thickens and starts leaving out oil. Then add the half-cooked chicken to it (add the stock if any). Stir well, add very little water and some salt, cover and cook until chicken is tender and gravy has dried up. Garnish with chopped coriander leaves and serve hot with chapati, butter naan or with parathas.
(Visited 11 times, 1 visits today)