Chocolate Cake with Vanilla Cream
It was my husband's birthday yesterday and this time I decided to bake the cake myself.We both love chocolate cakes. So I decided to bake a chocolate cake with a hint of coffee taste in it topped with fresh cream frosting with some chocolate shavings. He just loved it, and within an hour the cake was gone!! Here is the magical recipe =)
Ingredients:
200gms all purpose flour (maida),
250gms powdered sugar,
250gms butter,
5-6 eggs,
4-5 tbsp cocoa powder,
2 tsp baking powder,
1 tsp vanilla extract/essence,
2 tsp instant coffee powder,
A pinch of salt,
1 cup cold milk (or as required to thin out the batter),
1 bar of any plain chocolate like Cadburys or Lindt, broken into bite size pieces.
For the frosting –
200gms heavy cream, (substitute with Soy milk cream for lesser calories)
50gms powdered sugar,
Cherries,
Chocoloate shavings as per choice.
Method:
Sift together flour, baking powder, cocoa powder, coffee powder and salt. In a bowl, using a electric blender or wire whisk cream butter and sugar until creamy and fluffy. In another bowl, beat eggs until fluffy. Then mix them with the butter-sugar mixture. Initially the mixture may look curdled, but as you blend it together it gets creamier. Then slowly add the sifted flour mixture in batches and combine well after every addition. When the mixture is well combined, add vanilla essence and milk. (as required to get a thick dropping batter). Grease a cake tin with butter. Pour the batter into it. Drop the chocolate pieces into it and make sure then sink into the batter and are not left of the top. Bake the cake in a preheated oven at 180 degree C for around 30-40 minutes. To check if the cake is ready prick it with a knife, if the knife comes out clean, the cake is done.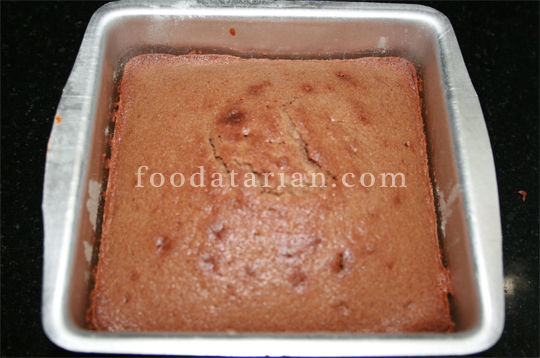 To prepare the frosting, with an electric blender beat together cream and sugar until soft peaks are formed. To forst the cake, cut it into two halves horizontally to get two same size cakes. Spread good amount of cream on top of one halve. Spread some deseeded and chopped cherries and chocolate shavings over it. Then place the other half of the cake on it. Now generously spread the remaining cream all over the cake, from top to all the sides. Sprinkle chopped cherries and remaining chocolate shavings on top and on the sides of the cake. You can decorate it further as you like.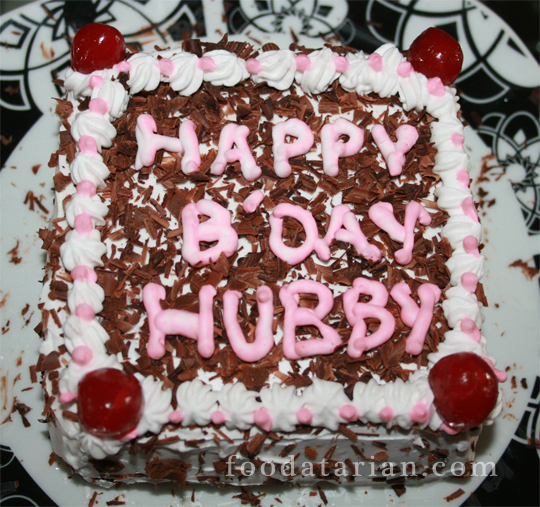 TIP: Fresh cream cakes are to be consumed within a day.
(Visited 12 times, 1 visits today)