Chocolate Coffee Cake
Ingredients:
1 cup flour,
1 cup powdered sugar,
3/4 cup canola oil or any vegetable oil,
4 eggs,
1/3 cup cocoa powder,
13-15 gms (around 4 tbsp) fine instant coffee powder,
2 tbsp corn flour,
1 tsp vanilla essence,
1 tsp baking powder,
1/2 tsp baking soda,
Butter for greasing.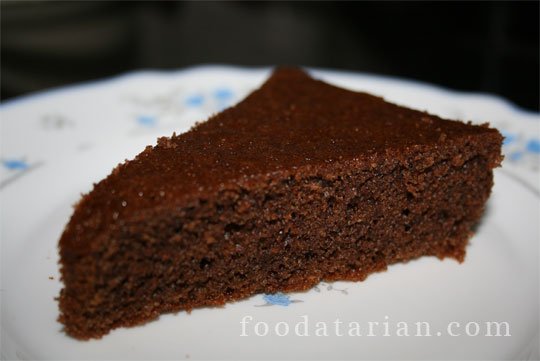 Method:
Sift together flour, cocoa powder, baking powder, baking soda and coffee powder. In a large bowl, combine eggs and sugar and whisk either using an electric blender or a wire whisk until the mixture is light and fluffy. You can also use the mixer-grinder by using the jar/blades used for liquids. Add vanilla essence and gradually add oil and keep whisking. The mixture should become nice creamy in texture and color.
Then fold in the sifted ingredients, little at a time with a wooden spatula/spoon. Continue until all the flour is used up.
Then grease a baking tin with some butter and pour the batter in it. Make sure no air bubbles are formed in the batter.
Preheat the oven at 180° C for around 5 minutes. Then place the tin inside the oven and bake at same temperature for 25 minutes. Let it settle inside the oven for 10-12 minutes before you remove it from the oven. Demold the cake, slice and serve.
TIPS:
1. You can add nuts like walnuts, almonds and cashew nuts to this recipe.
2. Top the cake with vanilla or chocolate icing and your kids will just love it.
(Visited 12 times, 1 visits today)