Chocolate Marble Cake
This Marble cake is a pound cake, nice moist with swirls of vanilla and chocolate flavor. It looks awesome and tastes delicious. I guess you can make them with different flavors too.
My husband loves cakes and asks me to make different cakes at home. So the other day I made this marble cake and it turned out really good. Here's the recipe.
Ingredients:
1 1/2 levelled cups all-purpose flour,
1/2 cup butter,
3-4 egg whites; beaten until stiff,
1 cup caster sugar,
1 1/2 tsp baking powder,
A pinch of baking soda,
A pinch of salt,
1/2 cup milk,
1/2 tsp vanilla extract,
1-2 squares of chocolate; melted,
1/2 tsp chocolate essence,
2 tbsp boiling water.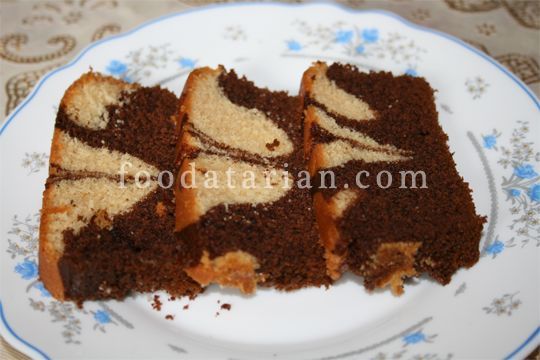 Method:
Sift together flour, baking powder, baking soda and salt. Set aside. In  a large mixing bowl, cream butter and sugar using an electric mixer until light and fluffy. To it add eggs and blend again. At this point the batter may look curdled but that is fine. Beat the batter for 1-2 minutes on medium speed. Slowly fold in the sifted flour mixture in small portions and keep mixing with the mixer after every addition. Add milk and beat until smooth. Then divide the batter into two equal portions. To one portion add the vanilla extract and mix well. Add boiling water to the melted chocolate and add it to the another portion along with the chocolate essence. Blend well until even. Prepare the baking tray. Then scoop a spoonful of vanilla batter and drop it into the tray, following by a scoop of chocolate batter next to it. Then again line up the vanilla batter followed by chocolate and fill the entire tray, with alternate flavors. Then use a toothpick or a skewer or a table knife to run to the batter to create swirls. Bake in a preheated oven at 375 degrees for 25-30 minutes or until done. Prick a toothpick or a knife to check if the cake is baked. If the knife comes out clean and dry, cake is ready.
(Visited 7 times, 1 visits today)