Christmas Chocolate Walnut Cake (Eggless)
Its holiday season and that time of the year where celebrations begin with good food and best wishes for your family and friends. Yes its Christmas time! Celebrate this year's Christmas with Foodatarian, by trying out our Christmas recipes.
Here is a recipe for Chocolate Walnut cake, not a traditional one, but a quick one and simple irresistible.
Ingredients:
1 cup all-purpose flour or whole wheat flour,
1/4 cup cocoa powder,
1/2 tin (around 200ml) sweetened condensed milk,
1/2 cup powdered or fine granule sugar,
1/2 cup refined oil,
1/2 – 3/4 cup milk,
1 tsp vanilla extract/essence,
1 1/2 tsp baking powder,
1/2 tsp baking soda,
1/2 cup crushed walnuts,
Vanilla Icing or Chocolate sauce (optional)
Cooking spray or butter to grease the baking tray,
5-6" baking tray lined with butter paper.
Method:
Preheat the oven at 180° C (approx 350° F).
Sift together flour, cocoa powder, baking powder and baking soda. In a blender or a mixing bowl, blend together condensed milk and sugar until the mixture is thick and cream in color. Then add oil and beat until the mixture smooth and light. Then add vanilla essence and 1/2 cup milk, again beat until smooth. Now fold in the half quantity of the dry ingredients and mix well. Add the remaining dry ingredients and blend well until the batter is even and smooth. Mix in some of the walnuts at this stage.
Grease the lined baking tray with cooking spray or melted butter. Pour the batter into the tray and sprinkle some walnuts on the top.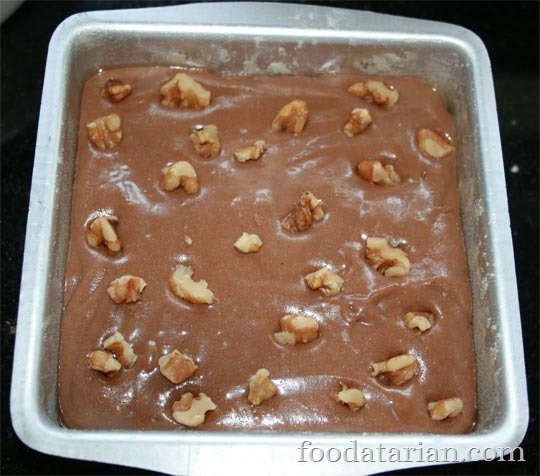 Bake the cake in the preheated oven at 180° C (approx 350° F) for 35-40 minutes. Let it stand in the oven for few minutes before you take it out.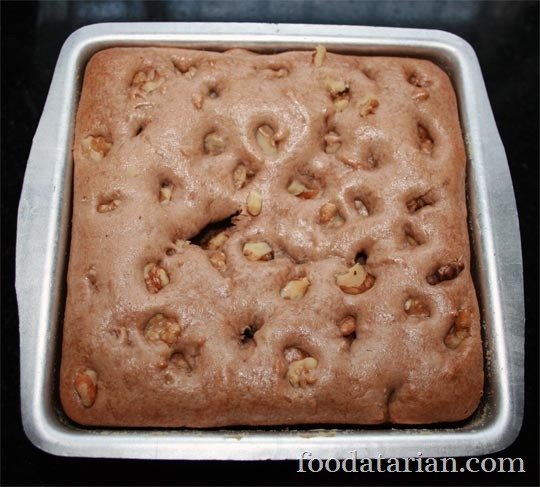 Top it with vanilla icing or chocolate sauce and crushed walnuts.
(Visited 11 times, 1 visits today)