Corn and Cheese Stuffed Green Peppers
A fairly simple recipe for bachelors, new cooks and for kids.
Ingredients:
3 medium size Green Bell Peppers (Capsicum); stalk removed, cut into half and deseeded,
1/2 cup paneer (cottage cheese); mashed,
1/2 cup boiled corn kernels,
1/4 cup grated cheese (Cheddar or Mozzarella),
1 small onion; very finely chopped,
1/2 tsp ginger-garlic paste,
1/2 tsp mustard seeds (rai),
1/2 tsp cumin seeds (jeera),
1/4 tsp turmeric powder,
1/2 tsp red chilli powder,
1/2 tsp ground cumin,
1/2 tsp ground coriander,
Juice of 1/2 lemon,
2 tbsp freshly chopped cilantro or coriander leaves,
Salt to taste,
Oil for frying.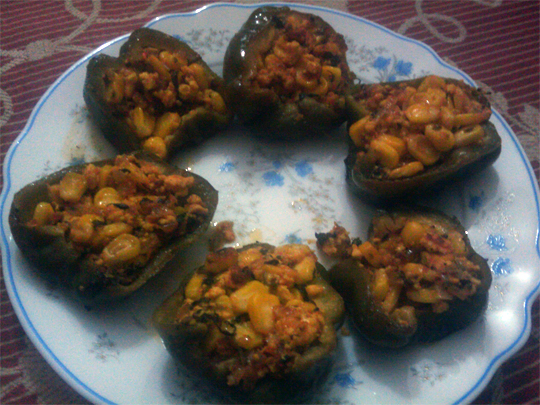 Method:
Smear the green pepper halves with some salt, lemon juice, few drops of oil and ginger-garlic paste. Leave them aside. Meanwhile in a pan, heat some oil and add mustard seeds, cumin seeds and a pinch of asafoetida. When the seeds splutter, add onion and saute until soft. Then add all the spices and roast for 2 minutes. To this add corn kernels, mashed cottage cheese, salt, and give it a nice stir. Cover and cook for 2 minutes. Uncover and add some lemon juice, chopped cilantro and remove from flame. Then add cheese and stir. Stuff this mixture into the pepper shells. Add some oil to the same pan, heat it on low-medium flame. Arrange all the stuffed green bell peppers into the pan, cover and cook till they are almost cooked. Do not cook them completely, else they will lose their crunchiness. Cook from all sides and then transfer to serving dish. Serve with Indian bread like paratha, naan or roti and dal.
TIP:
The filling prepared in this recipe could be also used to stuff potatoes, tomatoes, bitter gourds, samosas, patties, calzones and puffs.
(Visited 5 times, 1 visits today)