Crisp Fried Eggplant with Herbed Tomato Sauce
Ingredients:
1 large eggplant; sliced into 1/4 inch thick slices,
1/2 tsp paprika or finely ground red chilli, (adjust as per taste)
Salt to taste,
Fine Bread crumbs to coat,
Oil for frying.
For the herbed tomato sauce –
20 ounces or around 500-600 grams fresh ripe tomatoes; diced,
1 small onion; finely chopped,
4-5 cloves of garlic; minced,
5-6 white button mushrooms; finely chopped,
A pinch of paprika,
1 tsp of mixed dried or fresh herbs like thyme, rosemary, oregano and basil,
Few leaves of parsley; chopped,
Salt to taste,
Olive oil.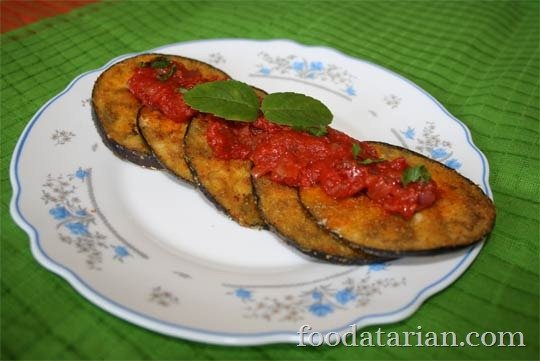 Method:
Rub some salt over the eggplant slices, on both the sides and keep them aside for few minutes. Season bread crumbs with paprika and salt. Heat oil for shallow frying in a large pan. By now the eggplant slices will be moist. Dip each slice into the seasoned bread crumbs, coat all over and drop them into hot oil. Fry on medium flame until crisp on both the sides. Drain on paper towels. And transfer to the serving dish.
On the other hand, to prepare the sauce, heat olive oil in a saucepan. Add minced garlic and onions and sauté on low-medium flame until soft. Add mushrooms, and cook until they begin to brown. Then add diced tomatoes and cook until they become soft and mushy. Add all the herbs, salt and cook for 5-7 minutes. Add chopped parsley, stir and remove from flame. Serve over crisp fried eggplant.
(Visited 15 times, 1 visits today)