Spinach and Cheese Stuffed Mushrooms in 10 minutes
These delicious little mushroom caps are stuffed with cheesy spinach stuffing and lightly seasoned with oregano.
Ingredients:
250gms white button mushrooms (around 12-15); washed under running cold water,
1 tsp minced garlic,
1/4 tsp oregano,
A handful of spinach leaves; washed and finely chopped,
2 tbsp crumbled cottage cheese,
2-3 tbsp chopped green scallions,
3 tbsp Parmesan cheese; shredded,
Salt and pepper to taste,
Extra-virgin and pomace olive oil.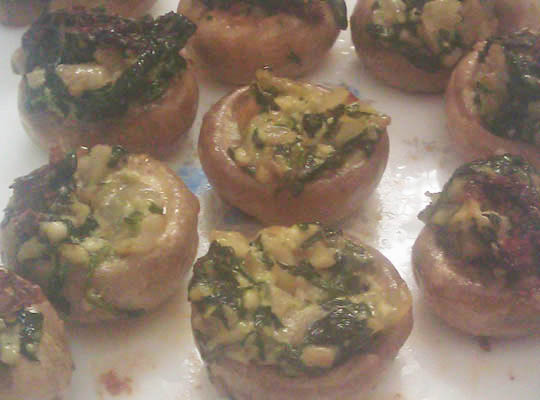 Method:
Remove stems and chop them very finely. In a wok heat some pomace olive oil, add garlic and saute till it is fragrant. Then add the mushroom stems, cover and cook for 2 minutes. Then add spinach leaves, scallions, cottage cheese, season with oregano, salt and pepper, stir and cover and cook for some time. Put off the flame. Transfer the stuffing into a bowl. To it add Parmesan cheese, little extra virgin olive oil and stir well. Let the cheese melt. Then stuff this filling into the mushroom caps and arrange them on a grease baking dish. Bake them at 350 degree F (175 degree C) for 7-8 minutes or they turn golden brown. Serve as appetizers at your Cocktail parties. Have fun!
(Visited 5 times, 1 visits today)