Egg and Lettuce Salad Recipe
Today I will share a very simple Egg and Lettuce Salad recipe that takes less than 15 minutes to prepare. Egg Lettuce Salads is one of the easiest salads to make, whenever you have some extra eggs in your fridge (like around Easter or Christmas).
Ingredients:
4 eggs
50 gms of lettuce leaves
1 tomato seeded and chopped
1 onion cut into cubes (green onion is awesome)
3 tablespoon of vinegar
2 tablespoon mayonnaise
1/4 teaspoon of crushed black peppercorn
1/2 teaspoon mustard powder
1/4 teaspoon white pepper powder (optional)
1 tablespoon olive oil
Salt to taste
Recipe (Serves 2):
Boil eggs in water for 8-10 minutes. While the egg's boiling, wash the lettuce leaves in running water and keep the leaves in a bowl of ice-cold water. After about 5 minutes, cut the lettuce leaves and keep them aside. Chop the onion into cubes. Remove tomato seeds and chop it into small pieces.
Now after the eggs have boiled, cool them, peel off the shell and place in cold water for about 2 minutes. Cut the eggs into pieces (do not make it too small) and gently mix the eggs with the lettuce leaves, onion and tomato. Make a dressing by mixing salt, crushed black peppercorns, white pepper powder, vinegar, mustard powder and olive oil.
You can now enjoy your salad with your partner!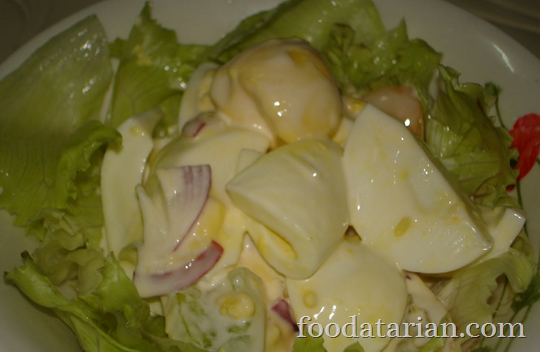 Check out some easy salad recipes here
(Visited 24 times, 1 visits today)