Eggs in Green Curry
I constantly try to prepare new recipes or modify my old recipes. This is one such modified recipe of egg curry. Green Egg Curry has a peculiar flavor of fresh coriander, dry coconut, tomato, cashew nuts and Chicken stock. I am sure you'll like this recipe, so try it out today.
Ingredients:
4 eggs; hard boiled, peeled and each cut into two halves,
1 large onion; very finely chopped,
Few curry leaves,
1 tomato,
2 tbsp desiccated coconut; lightly roasted,
5-6 cashew nuts,
A handful of coriander leaves + few chopped to garnish,
1-2 green chillies,
1/2 tsp Chicken masala or garam masala.
2 cups Chicken stock (I use Knorr chicken stock cubes and they have salt in it, hence I did not use salt in this recipe) or water,
Salt as per taste,
2-3 tbsp Oil,
Method:
Heat oil in a kadhai (wok) and add curry leaves and chopped onion. Sauté on low-medium flame until it changes it color to pinkish brown. Meanwhile grind together tomato, coconut, coriander leaves, chillies and chicken/garam masala, into a fine paste. When onion is sautéed, add this ground paste and cook until the gravy starts leaving oil from the sides of the kadhai. Then add chicken stock (as required) or water and bring to boil. Add salt if required. Drop egg halves, cover and cook for few minutes. Serve hot with steamed rice or chapatis or parathas.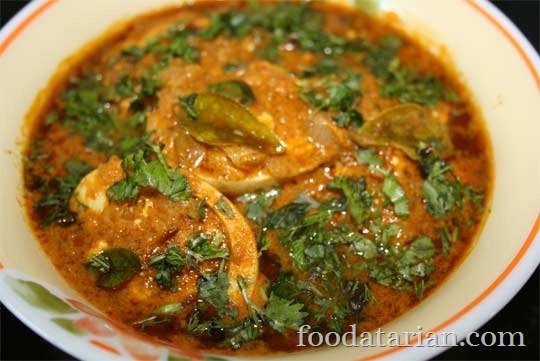 (Visited 6 times, 1 visits today)