Fried Chicken
I love to eat at KFC. The zinger and fried chicken (bucket) make me drool. My husband says if a KFC outlet was close by (where I live) I would have been there everyday. So one day I thought of making my own fried chicken which I can have whenever I want to. This is not a KFC recipe, but my invention and tastes some what similar to the one they serve.
Ingredients:
250 grams chicken (I used boneless but you can take whole cut chicken),
1 cup Flour or as required,
1 egg; beaten,
1 tsp garlic; minced,
1 tsp paprika or cayenne pepper,
1/4 tsp dry rosemary,
Salt to taste,
Oil for deep drying.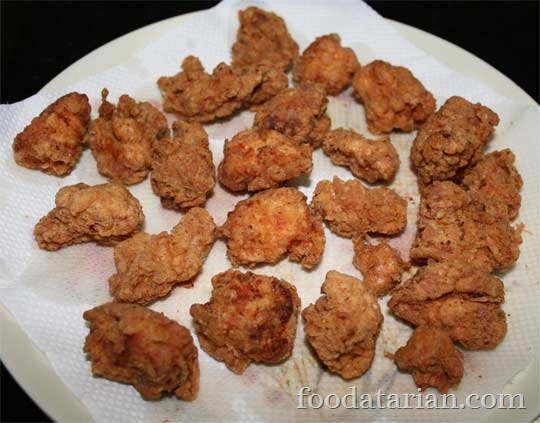 Method:
Combine egg, garlic, pepper, rosemary, salt and chicken in a mixing bowl. Then add flour to it and keep mixing. Combine well so that the chicken pieces are coated entirely with the mixture and the batter is thick. Adjust the amount of flour accordingly, or if the mixture is too thick, thin out by add little water. Leave it in the refrigerator for an hour or more.
Heat oil in a wok for deep frying. The ideal temperature is about 180° C or 360° F. The oil should not smoke. Drop in the chicken pieces in batches and dry them until golden and crisp. Drain on paper towels. Serve hot with tomato ketchup or chilli sauce.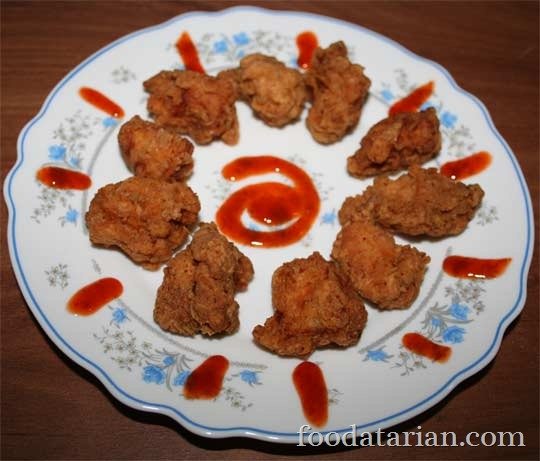 (Visited 20 times, 1 visits today)