Gatte ki Sabji (Rajasthani)
Ingredients:
1 cup besan (gram or chickpea flour),
2 large onions; very finely chopped,
1 tbsp crushed garlic,
1 tsp garlic paste,
1/2 tsp ginger paste,
1 finely chopped tomato,
1/2 cup yogurt (curd),
1 tsp turmeric powder,
1 1/2 tsp red chilli powder,
1 tsp jeera (roasted cumin) powder,
1 tsp dhania (coriander) powder,
1 tsp garam masala powder,
1 tsp heeng (asafoetida),
Salt to taste,
Chopped coriander leaves to garnish,
Oil for frying.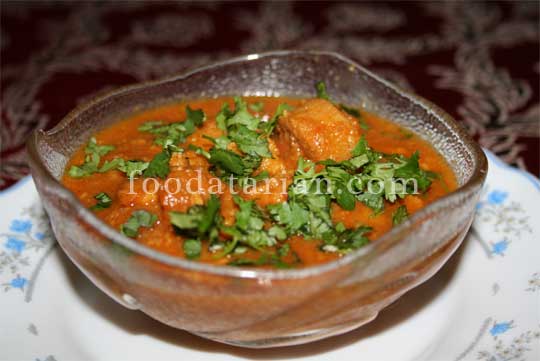 Method:
In a mixing bowl, combine besan, garlic paste, 1/2 tsp turmeric powder, 1/2 tsp red chilli powder, 1/2 tsp jeera powder, 1/2 tsp coriander powder, salt, 1/2 tsp asafoetida, 2 tbsp oil and water and knead a firm dough. Divide the dough into small balls, grease your palms with oil and roll each ball into elongated stick. Boil water in a deep container and drop these sticks into it. Cover and cook for around 10-15 minutes on medium flame. Later drain them and let them cool down. Then cut these sticks into small bit size pieces – gatte. You can fry these gatte in oil for some time till they change their color.
Heat oil in a kadhai(wok) add oil. When oil is hot add remaining asafoetida, crushed garlic, ginger paste and fry for a minute then add chopped onion and let it fry on medium flame till it changes its color to pinkish-brown. Then add the tomatoes and fry well till the gravy starts leaving oil from the sides of the kadhai. Then add turmeric powder, red chilli powder, jeera powder, coriander powder and salt and mix well. Add water to form a thick gravy and let it boil. Then add garam masala and coriander leaves, mix, add gatte and cover and remove from flame. Serve hot with parathas or naan.
TIP:
Fried gattas can be stored in the refrigerator for up to 1 month.
(Visited 8 times, 1 visits today)