Honey Chilli Paneer
Ingredients:
200 gms paneer cubes,
2 tbsp cornflour,
Salt and pepper to taste,
Sesame or vegetable oil for deep frying.
For the sauce-
2 onions; diced into 1/2″ cubes,
2 capsicums; diced into 1/2″ cubes,
2 tbsp dark soy sauce,
1 tbsp chilli sauce,
2 tbsp honey,
5-6 garlic cloves; finely chopped,
3 fresh red chillies; thinly sliced,
1 tsp sesame seeds,
Salt and pepper to taste,
Olive oil.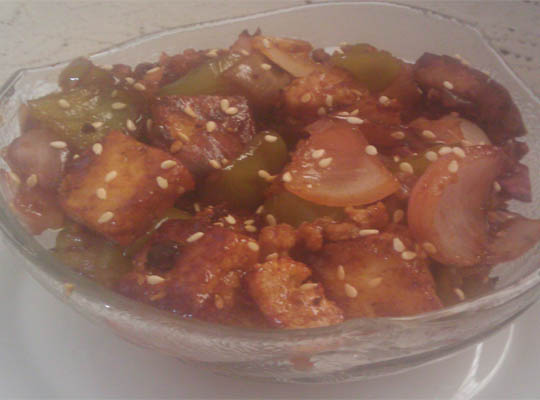 Method:
Sprinkle cornflour, salt, pepper on the paneer cubes and lightly rub them to coat them properly with the flour and seasoning. Later deep fry them in hot oil until they turn golden.
Lightly roast the sesame seeds in a wok and set aside.
Heat olive oil in a wok, add garlic and fry on low-medium flame till it is fragrant. Add sliced red chillies, onion, capsicum and fry them on medium flame for few minutes. Then add soy sauce, chilli sauce, stir and add fried paneer cubes. Mix well and cover and cook for a minutes. Uncover, season with salt, pepper, honey, stir and again cover and cook for 2 minutes. Serve hot with stir fried noodles or rice.
(Visited 1 times, 1 visits today)