Hyderabadi Dum Mushroom Biryani
Ingredients:
1 1/2 cup whole grain rice(basmati rice),
10-12 mushrooms, washed and cut into halves,
1 cup fried onion slices,
1 large onion, sliced,
2 small tomatoes, chopped,
1 tsp ginger-garlic paste,
3 tbsp curd, beaten,
1/2 tsp turmeric powder,
1 tsp red chilli powder,
1/2 – 1 tsp garam masala(as per taste),
Salt to taste,
1 tsp kesar(saffron),
1 cup milk,
1 tsp kevda essence,
2 tbsp chopped coriander leaves,
1 tbsp chopped pudina (mint leaves),
Oil,
Ghee,
Water.
Whole Garam Masala-
4 tejpatta(bay leaves),
1 chakri phool,
3-4 badi elaichi(cardamom),
4 laung(clove),
8 kali mirch (black peppercorns),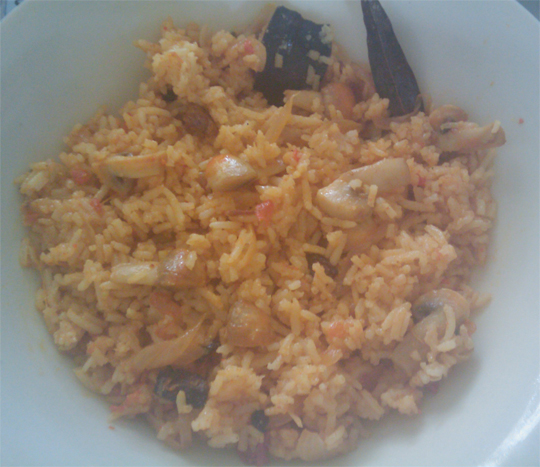 Method:
In a heavy bottom deep pan, heat some oil, put fry half of whole garam masala ingredients for 2 minutes and add washed rice to it. Mix well and add water enough to cook the rice. Cover and let the rice cook partially. Once done add chopped coriander and mint leaves, mi with a fork to avoid breaking the rice grains.
In another pan, heat some oil add the remaining whole garam masala, fry for 2 minutes and add the onion slices. Saute till onion turns transparent and then add the chopped tomatoes to it. Let the tomatoes cook till they turn very soft. Add turmeric powder, red chilli powder, garam masala powder and mix well. Fry for a minute and add the mushrooms and curd. Cook the mushrooms in this masala and then add salt. Remove from flame.
Mix saffron with the milk.
Take a heavy bottom pan, grease it with ghee and arrange layers of prepared mushroom masala, rice, milk and fried onion alternately. Heat a tava(skillet) and place this pan on this tava. Cover and cook for 20-25 minutes. Keep checking to avoid the biryani to burn from bottom.
Serve hot with your choice of raita.
(Visited 4 times, 1 visits today)