Kanda Bhaji (Onion Pakoda)
Ingredients:
2 onions, cut into halves and then sliced,
Besan or gram flour enough for the batter,
3/4 tsp turmeric powder,
1-2 tsp red chilli powder (as per your taste),
2 tsp ajwain (Carrom seeds),
Salt to taste,
Water,
Oil for frying.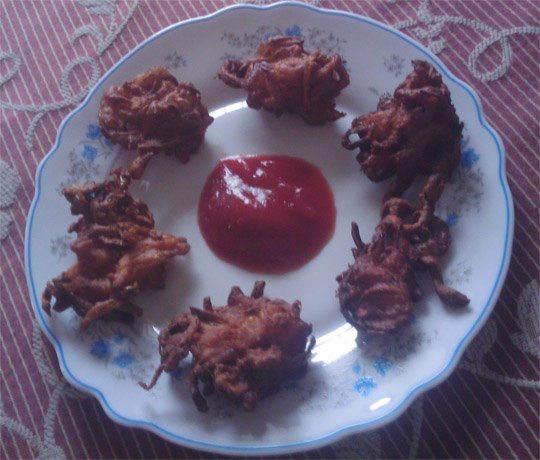 Method:
Apply some salt to the sliced onion and leave it aside till the onion leaves some water. Then add little gramflour (smaller quantity at a time) and mix. Note that the onion should be noticeable in the bhajis. Add turmeric powder, red chilli powder, ajwain and some salt (taste before you add salt since you had already applied some salt to the onion) and water and make a batter that is of dropping consistency by sticky.
Heat oil for frying in a kadhai (wok) on a medium high flame for 3-4 minutes. Then lower the flame to medium-low, remove 2 tbsp of hot oil from the kadhai and add to the batter and mix well. Then drop small bhajis in the oil and fry stirring till they are cooked and crisp. If you increase the flame then the bhajis would brown quickly and remain uncooked from inside. Serve with garlic chutney, mint chutney or tomato ketchup.
(Visited 4 times, 1 visits today)