Khasta Puri
Ingredients:
250gms whole wheat flour (atta),
60gms ghee (unsalted butter),
1/2 tsp ajwain (caraway seeds),
2-3 tbsp yogurt,
1/2 tsp sugar,
Salt to taste,
A pinch of soda bicarb,
Water for kneading,
Oil for frying.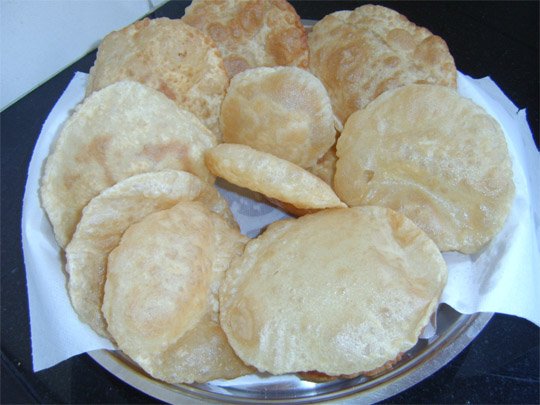 Method:
In a large mixing bowl, combine flour, ajwain, salt, sugar, soda bicarb, ghee and yogurt. Knead the mixture till a bread crumb consistency is formed. Then slowly add water only as required and knead a tight dough.
Heat oil for deep frying in a kadhai (wok). Roll out small puris from the dough. Drop 1-2 puris in the kadhai and fry them on medium flame. Adjust the flame as required. Serve with any sabji (vegetable).
TIPS:
1. You can use maida (refined all-purpose flour) instead of atta (whole wheat flour) or use both in equal quantities.
2. Khasta Paratha can be prepared from the same dough. Just roll out parathas and roast them on a griddle, using some ghee or oil.
(Visited 18 times, 1 visits today)