Macaroni and Corn on Toast
Ingredients: (Serves 3-4)
1 cup macaroni,
1/2 cup sweet corn kernels; boiled with little salt,
1/2 cup grated cheese (any of your choice),
1 small onion; very finely diced,
1 Green Bell Pepper (Capsicum); very finely diced,
1 green chilli; very finely diced,
Salt and pepper to taste,
4 tbsp tomato ketchup,
Butter for roasting,
8 toasted bread slices to serve.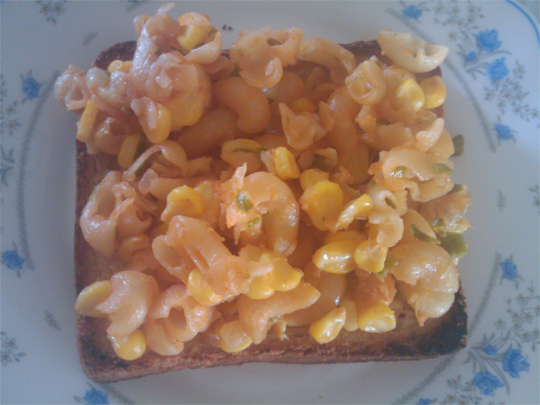 Method:
Cook the macaroni as per package instructions. Drain and run through cold water before you set it aside.
In a pan, melt the butter and add onion. Saute until soft. Then add green chilli, green pepper and cook for 2-3 minutes. Then add ketchup, corn kernels, macaroni, salt, pepper, stir and cook for 2 minutes. Later add cheese, stir nicely and take off flame. Spread it over the toasts and serve.
(Visited 6 times, 1 visits today)