Macaroni in Spinach and Cream Sauce
Last afternoon I sat thinking about what can make with spinach since I had to consume it yesterday itself. I desperately wanted to prepare something different to avoid ending up preparing the usual spinach vegetable or curry or parathas, and so on. I had stocked macaroni  last week , so suddenly this recipe struck my mind. I made it for lunch and everyone loved it. Another best part being, it took me less than 30 minutes to prepare the entire recipe. Try it out!
Ingredients:
1 1/2 cups macaroni or shell or any other pasta,
3 tbsp flour,
1 1/2 cups milk,
1/2 cup mild cheddar cheese; grated,
1/2 cup cream,
Salt and pepper to taste,
A pinch of dried thyme,
2-3 cloves of garlic; finely chopped,
1 small bunch of spinach leaves,
Olive oil,
Butter.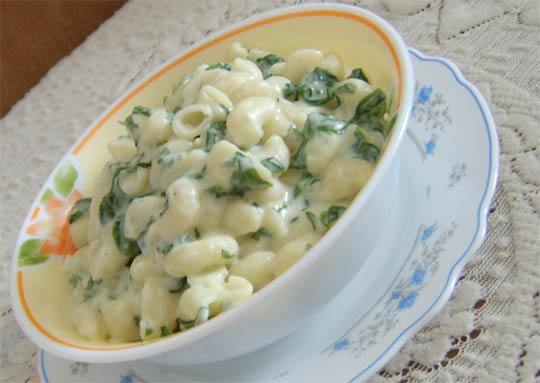 Method:
Cook the macaroni as per instructions given on its package. In a pan, add some olive oil, then add chopped garlic to it. Cook for a minute until it is fragrant and then add chopped spinach. Mix and cover and cook for 3-4 minutes. Season with some salt and thyme. Remove from flame and set aside.
In a saucepan, melt some butter and roast flour until fragrant. Then while whisking add milk and cook for a minute stirring continuously. Avoid or break any lumps*. Add cream and cheese to it and stir well. Season with salt and pepper. When sauce thickens, add cooked spinach and mix well. Then fold in the macaroni, stir and serve hot.
* To avoid lumps while preparing the sauce, let the flour cool down. Then add cold milk to it, mix well and then transfer to flame.
(Visited 5 times, 1 visits today)