Maple Glazed Chicken Breasts
Ingredients:
2 boneless and skinless chicken breasts; make small invisible slits or holes in them,
1 tbsp dark Soy sauce,
2 tbsp pure Maple syrup,
1 tsp White Rice Wine Vinegar or fresh lemon juice,
Few drops of Tabasco sauce (as per taste),
Salt to taste,
Olive oil spray.
Method:
Take a large resealable plastic bag and place your chicken breasts into it. To that add all the ingredients except the spray and seal the bag carefully. Now swish the bag so that the chicken is marinated with all the ingredients. Do that for few minutes and keep it in the refrigerator overnight for best results, else 4-5 hours are just fine.
Later spray your grill pan and place the chicken into it. Some amount of marinade would be left behind in the bag, reserve it for later use, to baste the chicken. Grill the chicken at 350 degrees F for 20-25 minutes or until the meat thermometer registers a temperature of 160 degrees F in the thickest portion of the chicken breast and juices run clear. Keep brushing it with the glaze from time to time. Serve with a fresh tossed salad.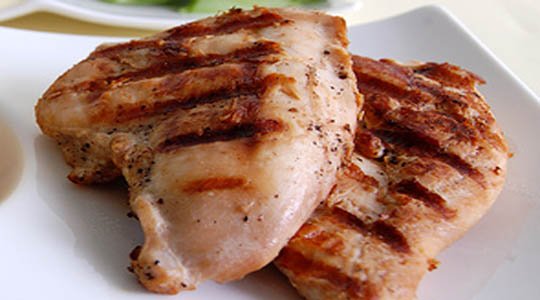 TIPS:
1. If a lot of marinade/glaze is left even after you brush the chicken with it, transfer it to a sauce pan, let it simmer for few minutes. Pour it over the grilled chicken breasts while serving.
2. To serve as an appetizer – Dice the chicken in bite size pieces and prick a toothpick in each piece, serve with chilli sauce or your favorite dip.
(Visited 3 times, 1 visits today)