Mediterranean Linguine with Vegetables
Ingredients:
8 ounces uncooked wheat linguine pasta,
1 ounce sun-dried tomatoes; drained,(or use grape tomatoes or Vine tomatoes)
8 ounces fresh mushrooms; sliced,
4 cloves garlic, minced,
1 cup onion; finely chopped,
1 medium size green bell pepper; thinly sliced,
1 medium size sweet red bell pepper; thinly sliced,
1 can artichoke hearts; drained and chopped,
1 1/2 tsp dried Italian seasoning,
1/2 tsp red chill flakes,
2 tbsp of dry red wine,
10-12 pitted Kalamata olives, sliced, (or used black olives)
1/4 cup fresh parsley; chopped,
Salt to taste,
1/4 cup crumbled Feta cheese,
1/4 cup Parmesan cheese; grated,
1 tbsp Balsamic vinegar,
Nonstick cooking spray,
1/4 – 1/2 cup extra virgin olive oil.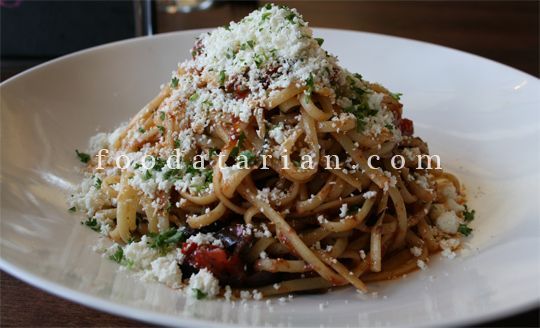 Method:
Cook linguine as per instructions on the package. Do not add salt while cooking. Drain and set aside.
In a large pan, spray with the cooking spray and heat it. Add garlic and cook for a minute. Add onions, mushrooms and saute until crisp yet tender. Then add artichokes, bell peppers, sun dried tomatoes and cook for 4-5 minutes. Then add wine, seasoning, chilli flakes, salt and cook. Now add olives, parsley, pasta and toss well with Feta cheese. Transfer to serving bowls, top with Parmesan cheese and drizzle with olive oil.
(Visited 12 times, 1 visits today)