Medu Vada (Urad Dal Vada)
Our common love for food, drives me and my husband to South-Indian restaurants to have our Sunday breakfast. Sunday is our day to relax and gorge on food that we love. And what a way to begin the day. South-Indian breakfast mainly consists of Idli, Appe, Dosa, Uttappa and Medu Vada accompanied with chutney and sambar. Though Idli is not my personal favorite I love medu vada sambar. And we make it a point to order one to share, and I end up having it all 🙂 See the photograph I clicked at one of our favorite South Indian joints.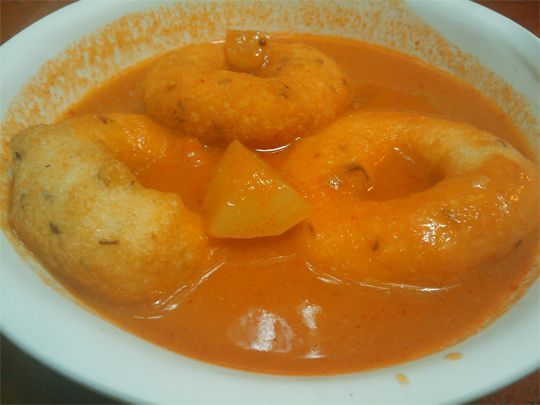 Here is the recipe of Medu Vada.
Ingredients:
1 cup dhuli urad dal (split black gram without skin),
1 green chilli, thinly sliced,
1″ piece of ginger; finely chopped,
7-8 curry leaves,
A pinch of asafoetida,
1/2 tsp ground pepper,
Salt to taste,
Water as required,
Oil for deep frying.
Method:
Soak the urad dal in some water for 5-6 hours. Then grind it into a thick smooth paste. To check insert your index finger into the batter and press between your thumb. If you feel small the batter is still coarse grind it until smooth. Do not add water, we want a thick batter (not of pouring consistency). Heat oil in a kadhai for deep frying. Meanwhile mix all the other ingredients to the batter and prepare small vadas, with a small hole in the center of each vada just like a doughnut. (See pic) Then fry these vadas in batches on low-medium flame until crisp and golden in color. Serve with coconut chutney and sambhar.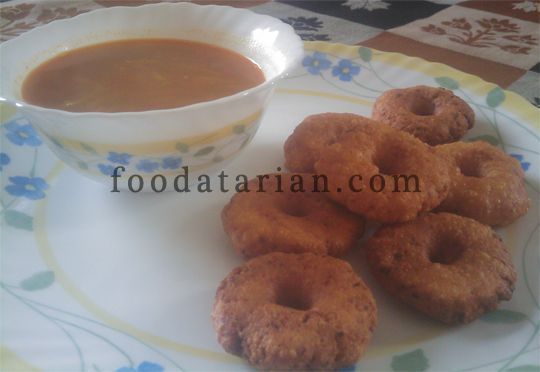 (Visited 25 times, 1 visits today)