Mexican Chicken Salad Wraps
Ingredients:
2 boneless and skinless Chicken breasts,
5 Flour or Corn Tortillas,
1 tsp Low Fat Ranch Dressing,
2 tbsp Low Fat Mayonnaise,
150 gms or 5 ounces Pears; chopped,
150 gms or 5 ounces Mandarin Oranges; diced,
1/4 cup avocado; mashed,
1/2 cup Red and Green Bell Peppers; diced,
2-3 leaves of Lettuce leaves; chopped,
1 scallion (with greens), diced,
1 tbsp lime juice,
A dash of Cayenne Pepper.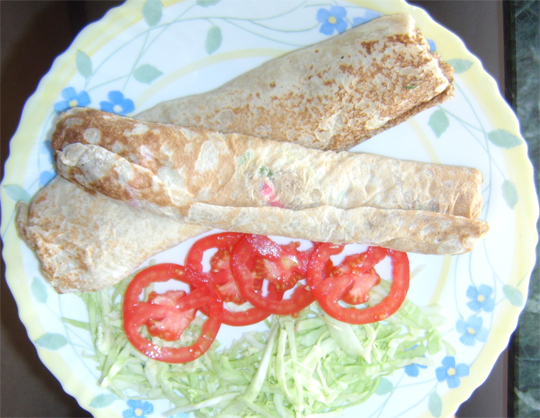 Method:
Place the chicken breasts on the broiler pan and spray them with non-stick cooking spray. Brush with the Ranch dressing and broil at 350-375ºF. Later remove the chicken from the oven and dice it into small cubes.
In a mixing bowl, combine all the ingredients along with the chicken cubes and mix well. Scoop out a spoonful of mixture and spread it over the tortillas, fold up the sides and roll up tightly to seal. Serve with salsa or your favorite dip/sauce.
(Visited 12 times, 1 visits today)