Mixed Vegetable Masala
My mother uses fresh coconut in many of her recipes. But after marriage, I often miss the taste and delicious recipes that she prepares. I often use shortcuts while cooking. That's because as a working woman I find it hard to grate coconut everyday and use it in my daily cooking. Ofcourse I do not think I could ever be as good as my mom. That's a different case altogether, but well I got a solution to this coconut problem 🙂 I grated some coconut and prepared ground green masala and refrigerated it, for my future use. Today I tried this recipe for mixed vegetables for lunch, and it reminded me of my mother's cooking. Everyone in my family loved it, so sharing with you…dedicating this recipe to my mother.
Ingredients: (Serves 7-8)
3 cups cauliflower florets,
3 carrots; diced,
2 capsicum; deseeded and diced,
3/4 cup shelled green peas,
1 large onion; ground to paste,
2 small tomatoes; ground to puree,
2 tsp ginger-garlic paste,
8-10 curry leaves,
1 tsp coriander powder,
Salt to taste,
Oil for frying.
Green Masala –
1/2 cup grated fresh coconut,
A handful of coriander leaves,
2 green chillies,
7-8 cloves of garlic,
3-4″ inch piece of ginger.
Whole garam masala –
3-4 star anise; broken into pieces,
2 pieces of cinnamon (dalchini),
3 cloves (laung),
4-5 peppercorns (kalimirch).
Grind together all these ingredients with little water to prepare a thick paste.
Method:
Boil cauliflower florets, carrots and green peas until cooked.
In a kadhai/wok, heat oil and add whole garam masala ingredients. Fry for 30 seconds and then add onion paste. Saute on medium flame (stirring occasionally) until light brown. Then add ginger-garlic paste and roast for few minutes. Then add tomato puree and cook the mixture until tomato is cooked and the masala starts leaving oil. Then add curry leaves, capsicum, stir well, cover and cook until it becomes soft. Then add green masala and cook for a while. Now add the boiled vegetables, dhania powder, salt, some water, mix, cover and cook for 5 minutes. Serve hot with chapatis, butter naan or parathas.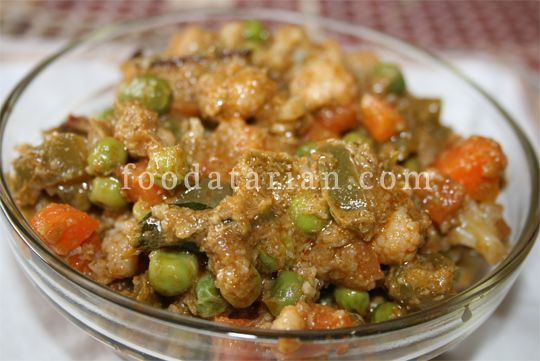 (Visited 4 times, 1 visits today)