Mixed Vegetables in Red Coconut Curry
This recipe is an Indian version of the Red Thai Curry. The coastal regions of India use fresh coconut is most of their recipes. This recipe is not a traditional recipe but is derived from western coastal region of Maharashtra – Konkan. Mixed vegetables are added to a curry that is made out of fresh coconut milk and seasoned with mixed spices like poppy seeds, cardamom, pepper, coriander and cumin and most important; red chillies and curry leaves. The curry is little spicy but also has a sweet taste of fresh coconut which makes this curry very delectable.
Ingredients:

1 cup finely chopped French beans,
1 cup finely chopped carrots,
1 large potato; diced into small cubes,
1/2 cup shelled green peas,
1 large onion; very finely chopped,
2 cups thick coconut milk, (fresh is better),
8-10 cloves of garlic; minced,
1 inch pieces of ginger; minced,
Few curry leaves,
2-3 Kashmiri red chillies (dry),
A spoonful of cornflour for thickening the curry,
Around 3 tbsp oil for tempering,
Salt to taste,
1/4 cup fresh cream,
Chopped coriander leaves to garnish.
Mixed Spice Powder –
1 tsp poppy seeds (khus khus),
10-12 pepercorns,
4-5 green cardamom (elaichi),
2 tbsp coriander seeds (dhania dana),
1 tbsp cumin seeds (jeera),
8-9 Kashmiri red chillies (dry).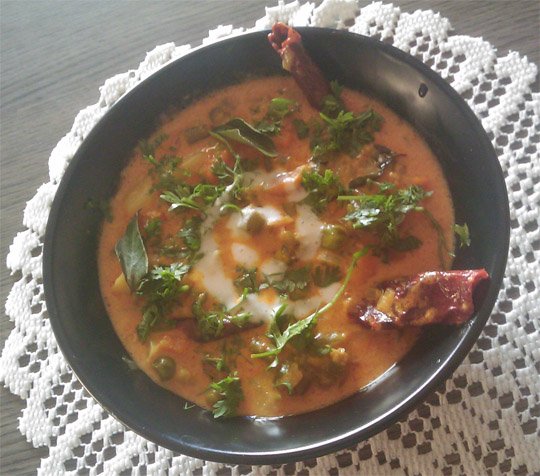 Method:

To prepare the mixed spice powder –
Heat 2 tbsp oil in a small pan, and roast above spice ingredients lightly, one after another and then grind them to fine powder.
To prepare the curry –
Heat oil in a wok (kadhai). Add mustard seeds and let them splutter. Then add turmeric powder, garlic and ginger and fry till garlic turns golden brown. Then add chopped onions and saute them till they become soft. Later add all the vegetables and cook them for a while. Vegetables should not be completely cooked, let them be crunchy. Then add the mixed spice powder (made above), salt and coconut milk. Stir nicely and then add cornflour paste (dissolve cornflour in little water). Mix and cook on low-medium flame for 5 minutes. Add some curry leaves, fresh cream and whole red chillies, garnish with some chopped coriander leaves and serve hot with parathas, dosas or rice.
TIPS:
You can add different vegetables to this curry like mushrooms, broccoli, babycorn, and many more. You can also add stir fried or boiled boneless chicken pieces to this curry.
(Visited 1 times, 1 visits today)