Moong Dal Koftas
I saw a recipe called 'Moong Dal ki Goli' on a television show. It sounded interesting as we often prepare daal from moong dal, I occasionally prepare 'Dhirda/Dosa' from moong dal, but 'goli' was more like koftas. Though I couldn't note down the recipe, I did not remember the exact ingredients, but one night I realized, I was falling short of vegetables for the next day's lunch. Since I had to rush to work early in the morning next day, I knew I won't get time to go to the market to buy vegetables. This recipe came to my rescue. I soaked the moong dal at night and next morning prepared these wonderful koftas. These koftas unlike other Koftas are not dipped in a curry. It is a dry preparation, so that the taste of curry/gravy does not spoil the taste for koftas. Here's the recipe;
Ingredients:
For the koftas-
1 cup moong dal with chhilka,
2 green chillies,
1 tsp ginger-garlic paste,
Few coriander leaves,
Salt to taste,
Oil for deep frying.
For masala-
2 onions; very finely chopped or ground to paste,
1 large tomato; very finely chopped or pureed,
1/2 tsp rai (mustard seeds),
1/2 tsp jeera (cumin seeds),
A pinch of heeng (asafetida),
1/2 tsp ginger-garlic paste,
1/2 tsp turmeric powder,
1 tsp red chilli powder,
1/2 tsp garam masala (option),
Salt to taste,
Oil for tempering.
Method:
For koftas-
Soak the moong dal for 4-5 hours. If not soaked for so long, add boiling water to the dal and soak it for 30 minutes. Drain and remove all the water. Then coarsely grind the dal along with the ingredients for koftas. The batter should be thick but of dropping consistency.
Heat oil for deep frying in a kadhai(wok). When hot reduce the flame to medium and the drop few koftas into hot oil. Fry them at a light brown color.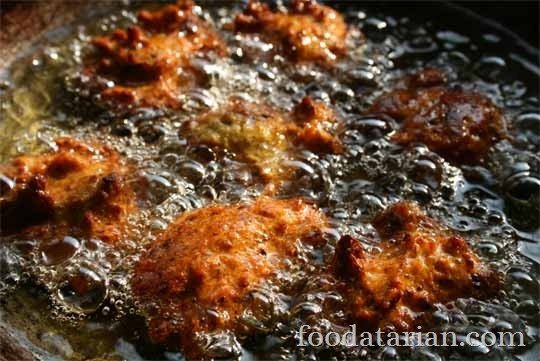 Fry all the koftas in batches and drain them on Kitchen paper.
For the masala-
Heat a pan/kadhai. Use the same hot oil in which we fried the koftas earlier. Add mustard and cumin seeds, asafetida, onions and ginger-garlic paste. Sauté on low-medium flame until onions become pinkish in color. Then add turmeric, red chilli powder and garam masala. Fry for a minute. Then add tomatoes and cook covered until a thickish gravy is formed.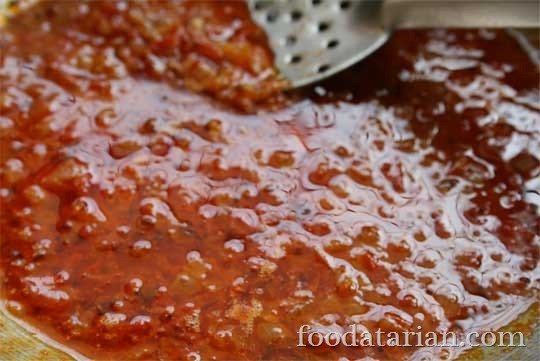 Add salt and give it a nice stir. Its time to add koftas to the gravy. Once koftas are added, give them a nice stir to coat them properly with the masala. Cover and cook until 1-2 steams and they are ready to serve.
Serve hot with chapatis or dal-rice.
(Visited 17 times, 1 visits today)