No Fat Dal Makhani
'Dal Makhani' is an authentic Punjabi (North-Indian) lentil soup made out of whole 'Black gram or 'Urad Dal'. 'Punjabi Cuisine' has varied flavors and is traditionally made with generous amount of ghee and cream. Today as people have become more conscious about their health and prefer low calorie diet, many traditional Indian recipes are given a miss, even though they are loved. Dal Makhani is one such recipe. That is why I have introduced this recipe which is made with no oil/ghee and no cream, so that you can have your favorite dal makhani anytime without any guilt.
Ingredients:
1 cup whole Black gram or urad dal,
1/2 cup rajma (red kidney beans),
1 onion; diced,
4-5 cloves of garlic,
3 large tomatoes; diced,
2 tbsp tomato ketchup,
2-3 green chillies,
1/2 tsp red chilli powder,
1 tsp tandoori masala or garam masala,
A pinch of amchoor (dry mango powder),
1 cup skimmed milk,
1/4 cup low fat yogurt; beaten until smooth,
Few coriander leaves; washed and finely chopped,
Salt to taste,
Water as required.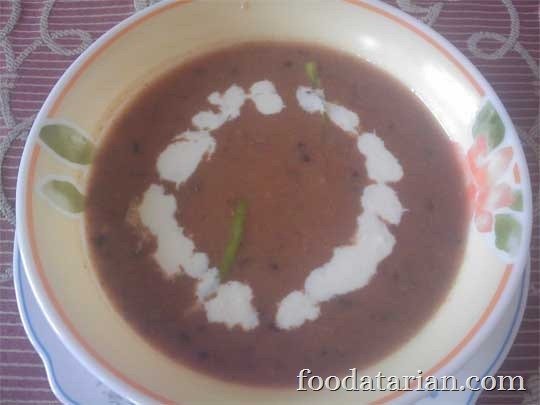 Method:
Soak urad dal and rajma over night (or for at least 7-8 hours). Cook dal and rajma along with onion, garlic, tomatoes and 4-5 cups of water in a pressure cooker on high flame up to 5 whistles and then simmer on low flame for 30 minutes. Remove from flame and open the lid when pressure drops. Add milk to the cooked dal mixture (in the pressure cooker or you can transfer it to another pot/kadhai) and mash the dal so that all the ingredients form a nice mixture. Place it on the stove, add red chilli powder, tandoori masala, amchoor and stir. Now add water only as much required and bring the dal to boil. Then add amchoor, tomato ketchup and green chillies. Cook for a minute or two before you remove from the flame. Transfer to a serving bowl, garnish with beaten yogurt and chopped coriander leaves. Serve with steamed rice or parathas.
(Visited 28 times, 1 visits today)