Pasta in Creamy Tomato Sauce
What could be on your mind after you get back home from a long tiring day of work, apart from hitting your bed? I would want to cook something in few minutes and wrap up my kitchen. And this recipe is exactly the one you can prepare in few minutes and is effortless.
Ingredients: (Serves 4)
225 grams of pasta (any pasta would do, I used macaroni),
1 medium white onion; chopped,
1 tbsp finely chopped garlic,
200 grams of mushrooms, (porcini or white button); sliced,
1 or 2 peppers (red, green or yellow – any one would do or use little of all),
200 grams of tomato sauce or tomato puree,
150 ml heavy cream,
1 tsp dried oregano,
1 tbsp fresh or 1 tsp dried parsley,
1 tbsp fresh or 1 tsp dried basil,
Salt and Pepper to taste,
1/4 cup shaved Parmesan cheese,
1 cup or a generous amount of Mozzarella cheese; grated, (optional)
Few black olives; pitted and sliced,
Olive oil.
Method:
Cook the pasta as per instructions on the package.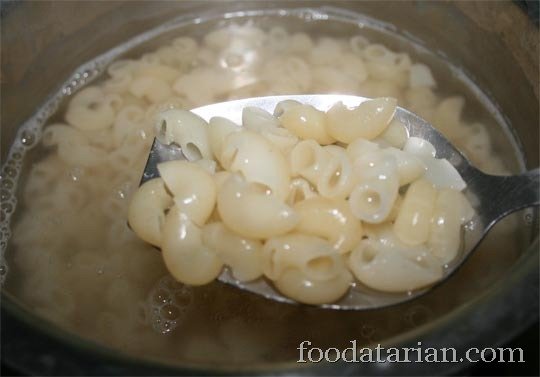 While your pasta is being cooked, prepare the sauce.
Heat some olive oil in a pan and add garlic and sauté on low-medium flame until fragrant. Do lot let it brown. Add onions and sauté on low-medium flame until translucent. Then add peppers and sauté for few minutes. Then add mushrooms and cook until they are done. Now add tomato sauce/puree and give it a nice stir. Stir in heavy cream and simmer for a minute. Then add oregano, basil, salt, pepper and parsley and mix properly.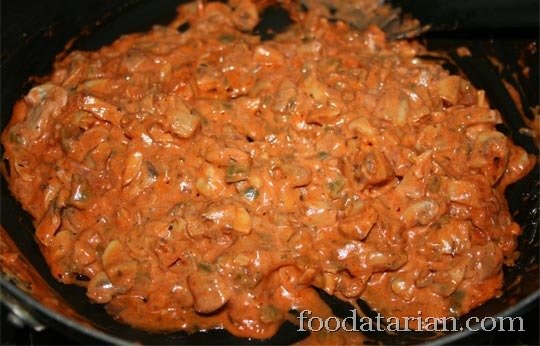 Now stir in the pasta to coat properly with the sauce. If you do not want to bake your pasta with Mozzarella then add olives at this stage. Add Parmesan and remove from flame.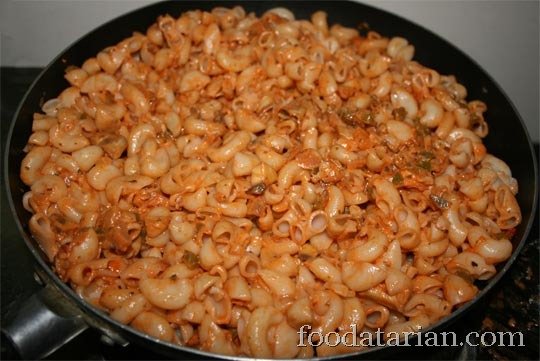 Your pasta is ready to be served. But I like to add Mozzarella to my pastas, which is what I did for this recipe. Transfer the pasta into a baking dish and top it with some sliced black olives (if not added earlier) and Mozzarella cheese and bake for 4-5 minutes or until the cheese melts and begins to brown.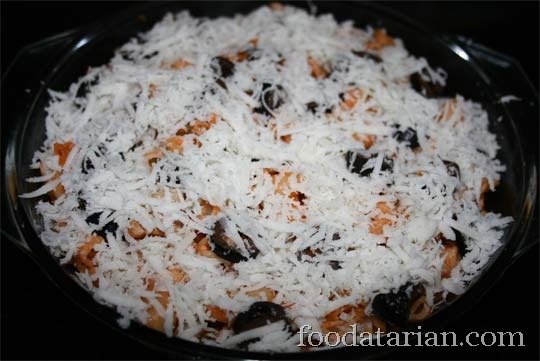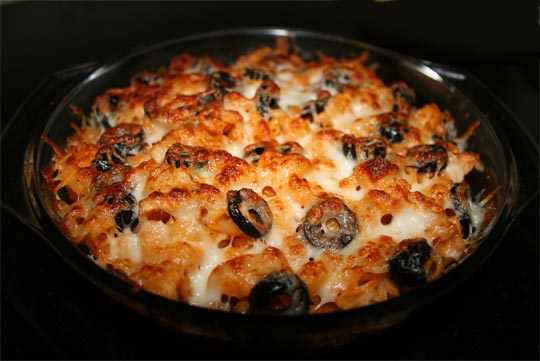 (Visited 30 times, 1 visits today)