Penne with Sausage and Tomatoes
This pasta recipe is very simple and can be made in minutes since no baking is required.
Ingredients:
17 ounces (1 pound or approx 500gms) penne paste,
8 Italian hot sausages,
2 tbsp olive oil,
2 medium onions; chopped,
1 tbsp minced garlic,
1/4 tsp red chilli/pepper flakes,
1/4 cup fresh basil leaves; chopped,
17 ounce (500 gms) whole Italian plum tomatoes; chopped,
15 ounces (400 gms) tomato paste or puree,
1/2 cup red wine,
Salt and freshly ground black pepper to taste,
Grated Parmesan or Ricotta cheese,
Sliced Olives (optional).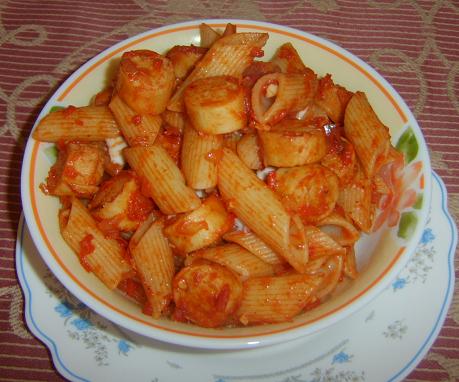 Method:
In a heavy bottom pan, heat a tbsp of oil and fry the sausages till they turn pinkish-brown in color. Break them using fork while frying. Drain and remove from the pan. In the same pan add more oil and saute the onion till it turns transparent. Add the chopped tomatoes and tomato paste, let this mixture simmer till it thickens. Sprinkle red chilli flakes, basil leaves, wine, give it a stir and cook till wine is absorbed.
Meanwhile cook the pasta with little salt as per instructions on the package, till al dente. Drain well and transfer to a large mxing bowl. Pour the sauce over it and mix well. Sprinkle some salt and pepper, olives and top with lots of cheese.
(Visited 5 times, 1 visits today)