Potato Stuffed Karela (Bitter Gourd)
Karela or Bitter melon/gourd has immense medicinal value and hence diabetic patients are prescribed to eat it in ample quantities. This recipe of stuffed karela is made of potatoes and dry coconut. Coconut adds a little crunchiness to the stuffing. Stuffed karelas could be served in a gravy as given in the recipe below or just fried karelas go well with dal-rice.
Ingredients:

3-4 medium size karelas (bitter gourds),
2 potatoes; boiled, peeled and grated/mashed,
1 large onion; finely chopped,
3 tbsp dessicated coconut (optional),
1 tomato, very finely chopped or 2 tbsp tomato puree,
1 green chilli; finely chopped,
1/2 tsp rai (mustard seeds),
1/2 tsp jeera (cumin seeds),
1/4 tsp turmeric powder,
1/2 tsp red chilli powder,
1/2 tsp coriander powder,
1/2 tsp cumin powder,
1/2 tsp garam masala,
1/2 tsp amchoor (dry mango powder),
1 tbsp cream,
2 tbsp chopped coriander powder,
Salt to taste,
A thread for tying the karelas,
Oil for roasting and frying.
Method:

Peel the karelas, wash them, spread some salt over them and set them aside.
In a pan, heat some oil, add mustard seeds, when they splutter add jeera. Then add onions and saute till they turn soft. Then add dessicated coconut and roast for few more minutes. Then add turmeric, red chilli, coriander and cumin powders and fry for a minute. Now add chopped tomatoes/puree and cook till the mixture is very soft and starts leaving little oil. Add mashed potatoes, garam masala, amchoor, coriander leaves, salt and mix well. Remove from flame and then add some cream. Mix well. The stuffing is ready.
Now wash the karelas once again. Then fill the above made stuffing into each one. Using thread tie each karela to seal it, so that the stuffing stays intact in them. If some stuffing is left, set it aside, it can be used to make a gravy later.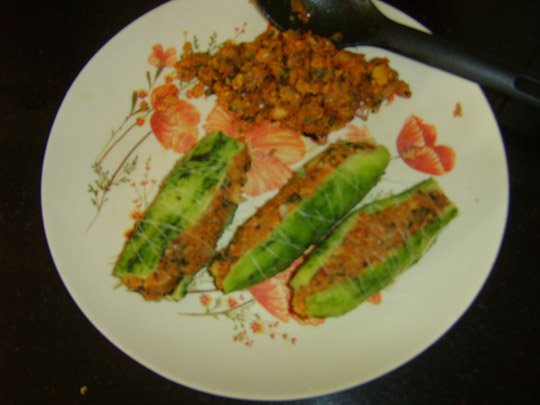 Heat oil for frying in a kadhai (deep fry) or in a shallow pan (shallow fry) and fry the karelas evenly from all sides till they are cooked and turn brown. Drain on paper towels to remove excess oil if any. Untie the thread.
To prepare the gravy, add the mixture in the same kadhai/pan (remove excess oil from it), add some water and bring to boil. Then drop the stuffed fried karelas into it. Serve hot with parathas or dal-rice.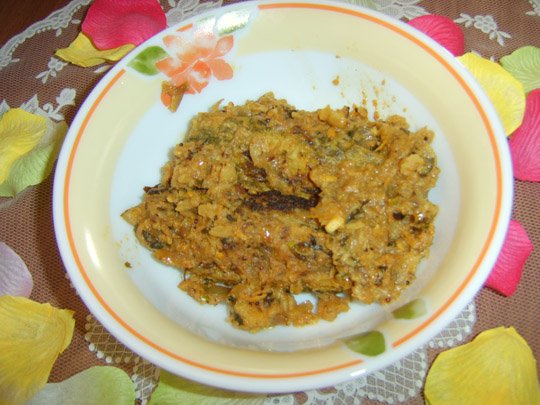 (Visited 9 times, 1 visits today)