Puri (Fried Puffed Unleavened Indian Bread)
Any Indian Festival is cannot be celebrated without delicious food. And I believe that 'puri' (poori) is one such food item which has to be prepared on the day of any festival or occasion. You may serve puris with different sabjis and sweets but puri is a must-have on any occasion. Here is a recipe for puri.
Ingredients: (To make around 15-20 puris)
1 cup wheat flour,
1/2 tsp salt,
A pinch of granulated sugar,
1 tsp oil (vegetable oil),
Water for kneading,
Oil for frying.
Method:
In a mixing bowl sift together flour, sugar and salt. Add oil and mix into the flour. Now gradually add water to the flour and mix with your hands to gather together flour to knead a dough. Add water only as required. Knead well to form a firm and smooth dough. Knead for 2 minutes and then cover and keep aside for half an hour.
At the time of preparing puris knead the dough again, use little oil if required. Now make small balls of size little
smaller than a lemon. Use a rolling pin and board, grease the board with some oil and roll puris that are little thicker
then chapatis. Meanwhile heat oil in a kadhai/wok. The quantity of oil should be enough to dip the puris. Heat oil till
it starts smoking, then reduce the flame to medium. To test if the temperature of oil is right, drop in a very small ball
of dough in the oil, if it touches the botton and immediately comes back to the top, your oil temperature is correct, else heat it for some more time. Now slowly slide a puri from the edge of the kadhai into the oil. This would prevent oil from spluttering and your hand would be safe. Note that you do not let puri touch the edge of the kadhai, otherwise it would stick over there 🙂 As soon as puri dips into the oil use the slotted spoon to quickly splash some oil over it, this action helps the puri to inflate. As soon as puri inflates, flip over to the other side cook for a minute, remove and drain on kitchen paper. If you find your puri is not inflating as soon as you drop it in oil, use the back of your spoon to push it down slightly and it would puff up in seconds.
Serve hot puris with alu sabji, shrikhand, aamras or anything else you like.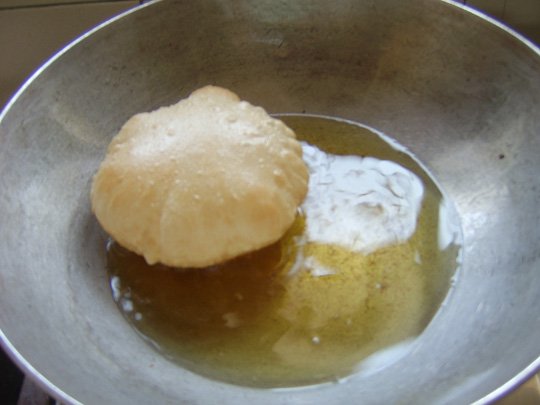 TIPS:
1. Sugar helps puris to stay fluffier for a long time.
2. If puris are rolled thin then they do not inflate, they become hard and crispy. If you want your puris to be fluffier
and puffed then roll them a little thicker.
(Visited 2 times, 1 visits today)