Quick Stir-Fried Okra
A quick and recipe of lady fingers or okra or bhindi. Since it doesn't require any skills, it is ideal for beginners and bachelors. This stir fry recipe requires little more oil than normal as it needs to be prepared in quickly. Coriander adds flavor to this recipe.
Ingredients:
100gms lady fingers (okra/bhindi),
1 large onion; coarsely chopped,
1 tomato; coarsely chopped,
A pinch of turmeric powder,
1/2 tsp of red chilli powder,
3 tbsp of chopped coriander leaves,
Salt to taste,
2-3 tbsp of oil for frying.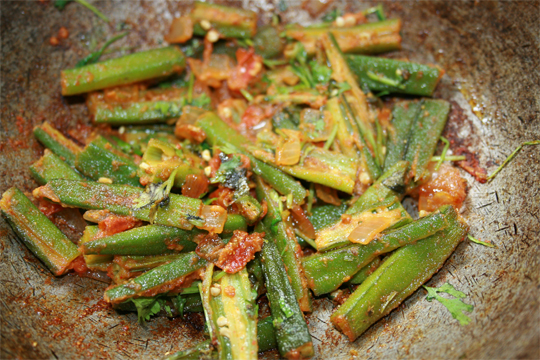 Method:
Add oil in a wok (kadhai) and add onion, tomatoes and lady fingers and stir fry for few minutes. Season with turmeric, red chilli powder and salt and cover and cook for few minutes until okra is tender and cooked. Stir occasionally. Add chopped coriander leaves, cover and cook for 2 minutes and serve with parathas or dal-rice.
(Visited 6 times, 1 visits today)