Ingredients
1 1/4 cup

Whole wheat flour

I use whole wheat flour, you can use self rising/refined flour

2

Large ripe bananas

or 3 medium size bananas, mashed well

1/2 cup

Yogurt

Yoghurt/Curd

1/2 cup

Brown Sugar

You can use white sugar as well

1/4 tsp

Ground Cinnamon

Optional, but if used, gives a very good aroma to the bread

1/2

Vanilla Essence/Extract
Directions
I have been wanting to bake banana bread for a long time now, but some how I managed to use bananas in various other recipes like Chocolate Chip Banana Muffins, Banana Chocolate Cake, Banana Strawberry Jam Muffins, Banana Pancakes and also in Fruit Custard. Last night I saw three ripe bananas sitting on my kitchen platform and thought they would be overripe by the morning. A thought ran my mind and I decided that I have to make this Whole Wheat Banana Bread for breakfast the next morning.
Since it was a Saturday and kids had a day off at school, I got up little late. After thinking of opting for the usual banana pancakes I strongly resisted the idea and began with the bread. It wasn't a difficult recipe at all and I had all these ingredients at home, so was easier to make.
You must be wondering what is a banana bread and what is the difference between a banana bread and a banana cake? Let me explain it in simple words, a banana bread is less sweet, dense and dry than its sibling the banana cake. The ingredients of both bread and cake are almost same. But the cake will be soft, airy, moist and sweet of course. That is because we use butter, white flour (in the original recipe we use white flour, but I often use whole wheat flours in all my cakes simply to increase the recipe's nutritional value). We can eat a slice of banana bread any time during the day. My kids loved the breakfast banana bread that day and it was over within minutes. A frosted banana cake will make a wonderful dessert. We will make that and post here soon.
I am sure you will like this recipe. Even though it is a Banana bread, this recipe doesn't really give you an overpowering flavour of banana. The hard crust and dense bread made my husband think what is it really, he just said whatever it is, it is really yummy. Why wait then? Lets get started.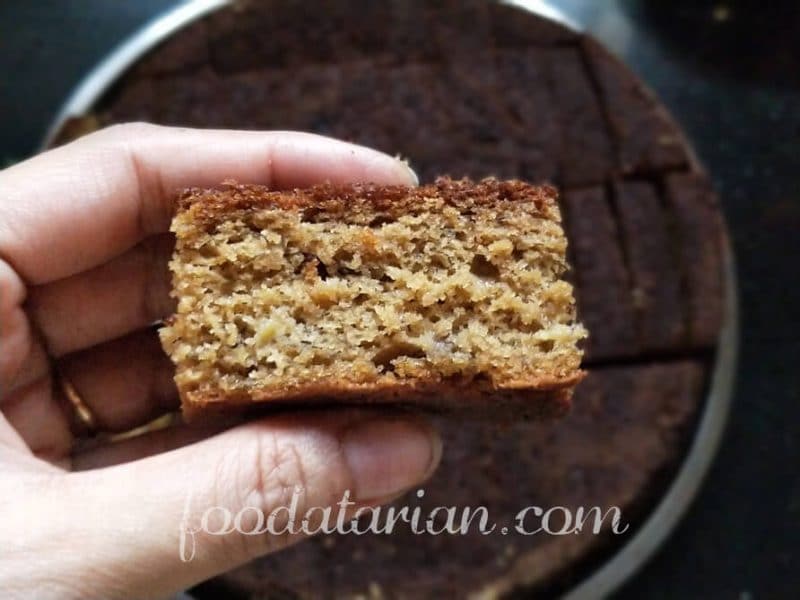 (Visited 375 times, 1 visits today)
Steps
Preparing the batter

In a large mixing bowl, whisk an egg and add yogurt and mix well. Then add brown sugar and whisk it until mixture is uniformly mixed. Then add baking soda, baking powder, cinnamon powder, vanilla essence and mix well. Stir in oil and then slowly add flour in batches until a thickish batter of cake like pouring consistency has formed.

Baking

Preheat the oven to 375 D F or 175 D C. I made this bread in the microwave at 200 D C.

Then grease a loaf tin/any baking tin and dust it with flour. Place it in the preheated oven for around 40 minutes. In the microwave I baked it for 35 minutes. The crust came out to be nice crisp. But if you want a darker and little hard crust you can bake it for 5 more minutes.