Ingredients
For the Filling -

10-12

Big cloves of garlic

3-4

1 inch pieces of ginger

7-8

Springs of fresh coriander leaves

Turmeric powder

Optional. I omit it some times and the only difference it makes it the stuffing looks off white

For the covering -

1 cup

Chickpea flour / Besan

Salt, turmeric, red chilli powder, asafoetida

as per taste
Directions
Think of street food and tell me, what comes to your mind first? Well, do write to me about it, but for me my all time favourite will be 'Batata Wada or Wada Pav'….UMM! my mouth has already begun to water. This irresistibly delicious batata wada (vada) or Aloo vada as some people may call, may have become popular from the streets of Mumbai. But today its a favourite dish not only in all Indian households, but it has gained popularity abroad too.
Batata Wada is a simple yet lip smacking fried snack, made up of a delicious potato filling inside a crispy chickpea covering. Served with spicy red chutney and usually eaten sandwich into a bread typically called the pav (like a bun used in Pav Bhaji). But I love the local pav and not the fancy 'whole wheat or brown pav' that is sold in the market these days. They are promised as the healthier version, but they don't taste even near good as the original ones.
One of the childhood memories (which I am sure many of us have) is to have bhajjis / pakodas with chai (tea) during rains. Even today the first day rains that marks the beginning of the monsoon I make these batata wadas and different bhajjis or pakodas (fritters) like Onion Bhajji / Pakoda, Potato Bhajji, Palak or Spinach Bhajji. Occasionally we do have all these popular fried Indian snacks, but I try to bake as many snacks as possible to make them healthier and binge on them guilt free.
You can have this batata wada with your tea or a perfect snack for kids. These vadas can be made at birthday parties or potlucks. They can make a good side dish in a perfect Indian meal (thali).
Usually batata wadas have a medium spicy potato mixture made of potatoes (of course!) and seasoned with freshly ground ginger, garlic, green chillies salt and other seasonings. The coating is made of chickpea flour (besan) again seasoned and may or may not have baking soda (personal preference). Baking soda makes the covering crisp.
Lets take a look at the recipe now.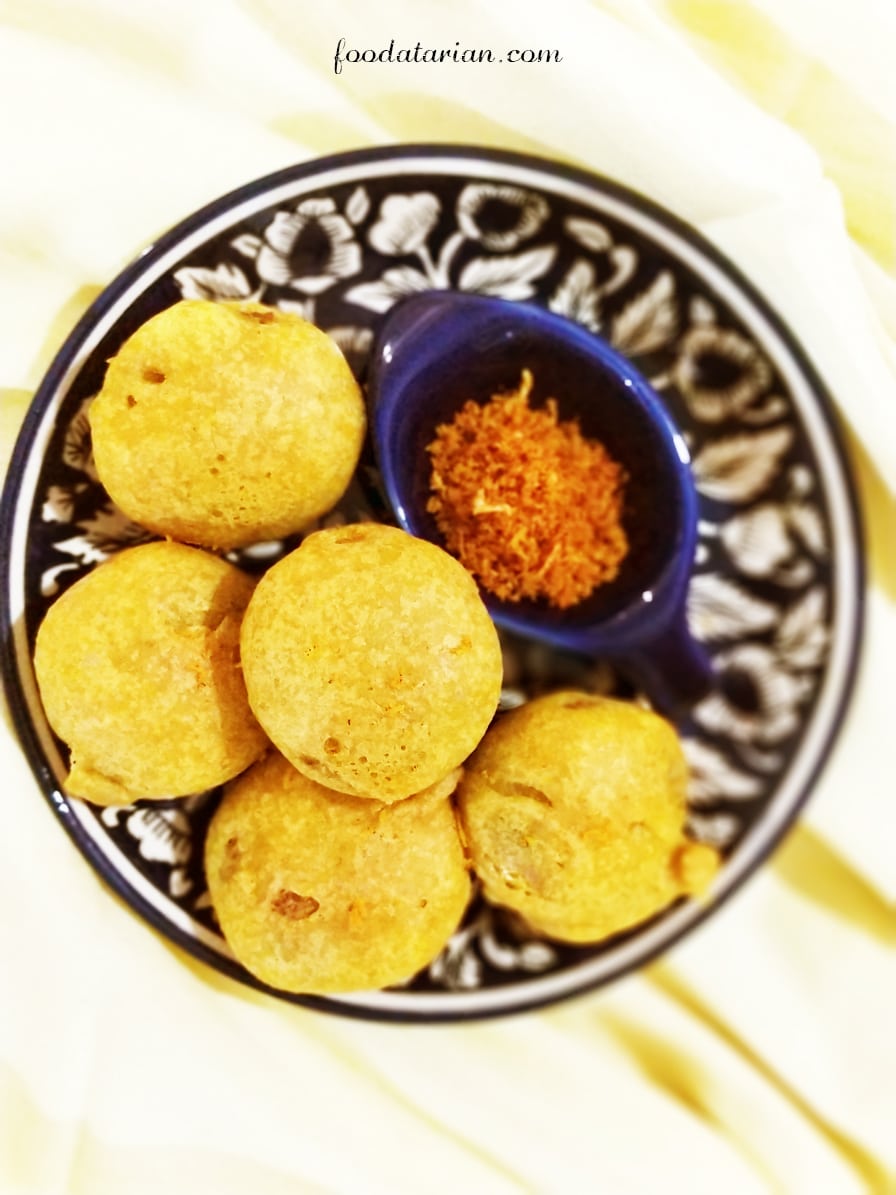 (Visited 553 times, 1 visits today)
Steps
15 - 20 minutes

Boiling the potatoes

Pressure cook the potatoes for upto 8-10 whistles. Since we are using big potatoes you can cut them into halves and pressure cook them. That way they will take less time to cook. If you opt to cook the potatoes in a pot, cover the potatoes with enough water, cover and cook them until they are soft. You can test that by pricking them with a fork or knife.

When done, drain them and let them aside to cool. Then peel the potatoes and mash them well.

Prepare the seasoning

Tip: You can prepare for the seasoning, while the potatoes are boiling. That way you will save some time.

In a small grinder jar, add ginger, garlic, chilli and coriander leaves. Grind it into a coarse paste.

Heat a small pan (tadka pan), add 1 tbsp oil and heat it on low flame for 1/2 a minute. Then add mustard seeds and let them splutter. Then add asafoetida (heeng), ginger-garlic-chilli-coriander paste and stir well. This is the stage when you can add turmeric powder if you are using it, else omit this step. Turn off the flame in a minute. Do not let this tadka burn.

Preparing the filling

Pour the seasoning we prepared in the Step: 2 over the mashed potatoes. Add salt and mix nicely mashing the potatoes further into the ginger-garlic-chilli-coriander seasoning until evenly combined.

Now roll small/medium sized balls.

Prepare the batter for coating

In a deep kadhai / wok, add oil for deep frying. Heat on medium flame until oil is nice hot but not smoking hot.

Meanwhile prepare the batter. In a big bowl, add besan, cornflour, salt, turmeric, chilli, asafoetida (heeng), baking soda and mix well. Now add water to this mixture, little at a time, stirring continuously until a sticky thick batter is ready. A thin batter would run down and would not stick to the wadas. Too thick batter may add too much of coating to the wadas making them soft instead of crisp.

So the secret to making crisp wadas also lies into the consistency of the batter. Don't be overwhelmed if you area new cook, you will get there with practice :)

When the oil is nice hot, add a tbsp of this hot oil into the chickpea battered give it a nice stir. Now the batter is absolutely ready.

Frying the wadas

To test whether the oil is hot enough, add a drop of batter to it. If it surfaces immediately * you are good to go. If the small ball sticks to the bottom and takes time to surface to the top, the oil needs to heat for some more time.

* There is a possibility that oil temperature is too high, in that case the drop of batter will surface immediately but will turn brown rapidly. This is when you need to switch off the flame immediately, let the oil temperature fall a bit. Then put on the flame again on medium. Test the oil temperature again.

We need to fry our wadas on medium flame only. But we may need to adjust the flame to the higher side in between. But this is something you will learn only with some practice.

Dip each potato ball into the batter to coat it well all over and then slowly slide into the hot oil. Be extremely careful during this process. Never drop the wadas into the oil from a distance as the chances are that oil may putter all over.

Let them fry nicely into the oil from one side until you see a nice light golden orange colour appearing from the edges of the wadas. Then is the correct time to flip them over and fry on the other side. The entire process may take good 8 - 10 minutes. Once crispy, drain the wadas on paper towel.

Serve hot batata wadas with dry coconut garlic chutney.