Ingredients
1/2 cup

Butter

softened at room temperature

1 cup

Brown sugar

tightly packed

1 1/4 cup

Whole wheat flour

1 tbsp

Milk

or as required

3/4 cup

Semisweet Chocolate chips

more the merrier :) I realised I used less

Hand mixer or hand blender with the beater attachment
Directions
Air Fryer Chocolate Chip Cookies? Yes, you read it right!
When my husband gifted me the 'Philips Air Fryer' I was not quite sure how much I can use it in my daily cooking. But since I began using it, I keep experimenting often. Every time there is roasting or frying in any recipe, automatically I try to air fry a portion of that recipe. Sometimes I fail, sometimes I succeed. I have now started baking and grilling in it regularly.
Today I am sharing the chocolate chip cookies recipes, that I succeeded in.
Air Fryer uses a technique of circulating hot air around the food at a high speed and cooks the food from within and also adds crispiness to it. All you need to do it spray/smear your food item with some cooking oil/butter and rest of it is taken care by the Air Fryer.
So what do I use the air fryer for?
Pretty much for most of the snacks like fries, cutlets, Manchurian balls, muffins, koftas, chicken kebabs, fish kebabs, to grill prawns, to grill chicken, chicken nuggets, and so many more.
The recipe I am sharing with you today is for Air Fryer Chocolate Chip Cookies. Well, you can follow this recipe and make any cookies you want, but here they are, crunchy and crispy eggless chocolate chip cookies.
Warning: This recipe yields amazingly crunchy and crispy cookies, so you may want to double or triple the recipe if you want to store them.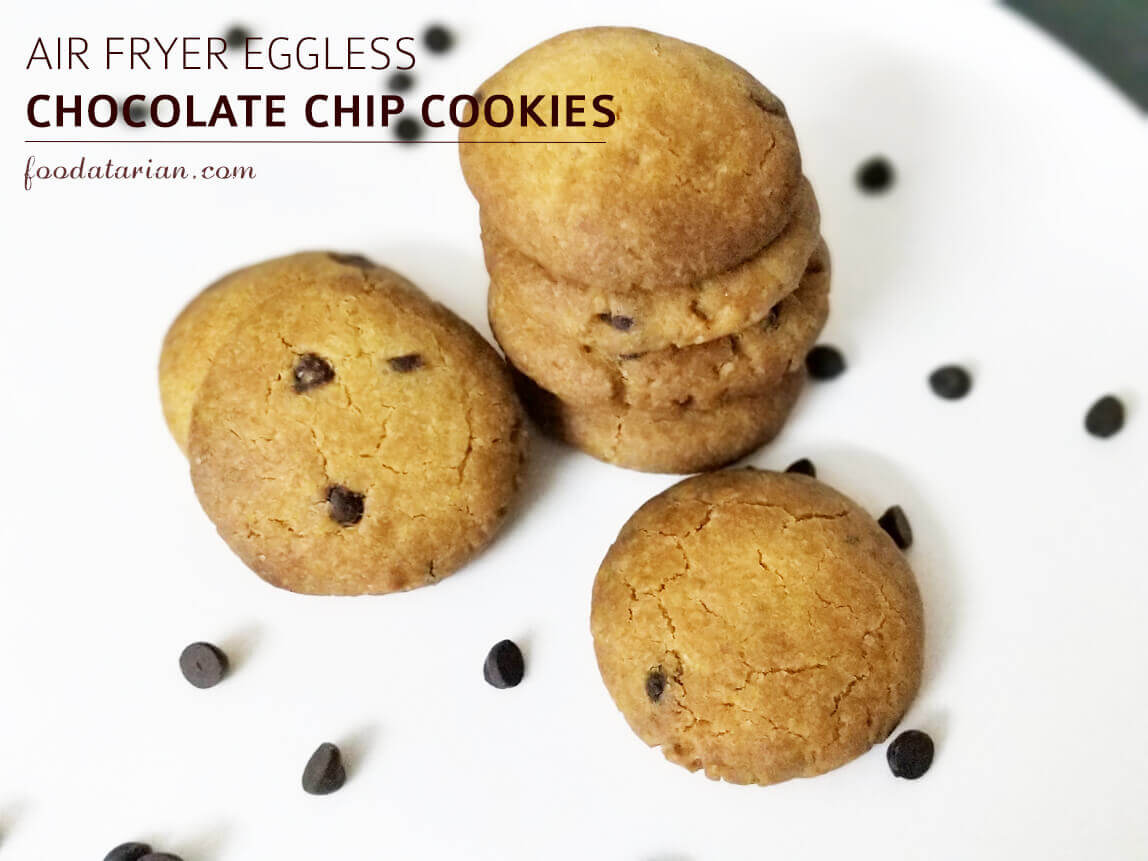 (Visited 2,857 times, 1 visits today)
Steps
Preheat the air fryer

Preheat the air fryer at 160 for at least 5 minutes.

Preparing the cookie dough

In a large mixing bowl, add butter and sugar. Beat the butter and sugar for 2-3 minutes until creamy with a hand mixer. I use whisk attachment of my all in one hand blender.

Add the vanilla essence and mix it with a spatula. Then add the flour (I have sifted the flour along with the baking soda) and baking soda and mix it well. Then fold in the chocolate chips into the dough. Add a tbsp of milk and mix it all well.

Air Frying the cookies

Scoop out a spoonful of dough and shape them into a flat cookie and place them on a foil. When all the cookies are ready, open out the basket of the air fryer and place them carefully since the basket will be hot. The cookies should be arranged in a way that they get space to expand.

Place the air fryer basket into the air fryer. And fry the cookies for about 10 minutes at 160. You can open the basket midway to check if they are not burning. After 10 minutes, let the cookies rest in the fryer for about 10 more minutes. This standby time makes the cookies crispy and not chewy. Remove them from the air fryer, allow them to cool completely and store them in an airtight jar (huh! like that's going to save them)

If you feel your cookies are browning before 10 minutes of frying is complete, take your call and stop air frying.
Air frying takes some amount of experimenting before you master it.

In my first batch, I baked only five cookies, thinking that they may stick together. But air fried cooking do not expand as much as the oven-baked ones, so in my next batch, I air fried almost 7-8 together.

Tip: