Ingredients
500 grams

Chicken breasts

You can also use chicken thighs

The marinade :

1/2 tsp

Rosemary

If you get on hands on the fresh rosemary leaves, it will take this recipe to another level

1 tsp

Fresh garlic

crushed

To taste

Salt, Paprika and Pepper

For the Vegetables :

Potatoes, Carrots, Capsicum

Any vegetables you would like. I used
Directions
What do you want after a hard tiring day? Rather, what you do not want after work is an elaborate meal prep, cooking and most importantly cleaning the dishes after everything. And that's why Sheet Pan Dinners or One Pot Meals are so popular.
Well who wouldn't like to make an entire meal in a pan or a pot, plus the easy cleanup. When the oven timer goes off, your entire dinner is ready. That's what I want…hahaha!
Now that my kids are growing up, making sheet pan suppers have not only become convenient but interesting too.
Earlier when kids were toddlers, I followed a nutrition chart to give them all the nutrition they need throughout the day. And even now I make sure they eat home-cooked healthy food that gives them enough proteins, vitamins and energy to keep them active (all the time…oops).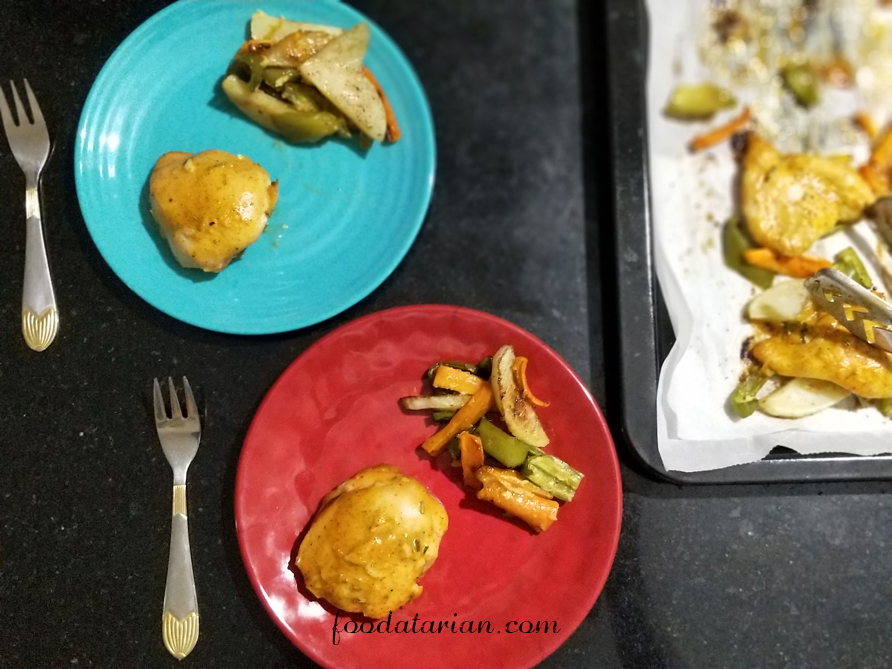 In this Honey Mustard Rosemary Chicken with Vegetable – One Sheet Pan Dinner recipe, I need not worry about their protein intake as per serving of chicken breast will give them roughly about 30 grams of protein. And with roasted vegetables, they get their Vitamins. Of course, I have added potatoes in this recipes, well who doesn't like baked potatoes along with their chicken? Bu the best part in sheet pan dinners is you can use pretty much any and as many vegetables as you like.
In this recipe, I have marinated the chicken breasts with mustard, honey, rosemary, some cheese mayo and seasoned it with paprika, salt and pepper. The mustard really tenderizes the chicken. I marinated the chicken for about an hour, but you can marinate it longer, just make sure you refrigerate it.
Also make sure to bring it back to the room temperature, before baking the chicken. Why?? So that the cooking time is reduced and the chicken bakes evenly.
I have added carrots, green bell pepper and potatoes, since I only had those vegetables available today. But you can add broccoli, brussels sprouts, beans or pretty much anything you like with your chicken.
So lets get started!
PS. I photographed my kids' plates and hence the serving size is so small ()
Lets get started..
(Visited 396 times, 1 visits today)
Steps
5 minutes

Prep

5 minutes

Prepare the marinade

Marinate the chicken

Preparing the veggies

Preheat the oven to 400°F.

Wash, peel and cut the veggies. I used potatoes, carrots which are peeled and cut into long pieces. I have cut the capsicum into similar shape and size. Arrange the vegetables onto a baking tray lined with baking paper. Season them with some salt and pepper. Use any seasoning you like, maybe some Cajun seasoning would make these vegetables even tastier. Spray them with some cooking oil and pop them into the oven for about 10 minutes.

Baking the chicken