Ingredients
For the marinade:

2

Pomfret

Whole pomfret, cleaned and pat dried

1 tsp

Red chilli powder

or as per spice preference (I have used medium spicy chilli)

1 1/2 tsp

Coriander powder

or as per taste

2 tsp

Fish masala or Garam masala

or as per spice preference

1 tbsp

Ginger-Garlic paste

1/2 cup

Rice flour

or as required

1 tbsp

Corn flour

or as required
Directions
Masala Fish Fry is one of the easiest and most delicious fish fry recipe you will ever come across.
There are lots of articles surfacing over internet these days which explain how fish (not all) have more health benefits than meat (not lean meat). It is said that apart from proteins, fish are good source of Omega-3 fatty acids and the unsaturated fat. Although few fish have more fat than chicken. The fish you can eat are Salmon, Trout, Mackerel, Sardines, Tuna to name a few.
In India we get Indian Salmon (Rawas), Mackerel (Bangda), Pomfret, King Fish, Basa, Rohu, Catla, Prawns and Shrimps.
I come from a Konkani family so I have always eaten fish right from my childhood. Now my husband and kids also love sea food. So I try to cook fish as many times a week as I can. Kids love Surmai Fish curry and boiled rice with Fried Prawns. I will be posting these two recipes soon.
I love experimenting with fish curries, masalas and fried fish. This is one such recipe which was born through my experimentation. I have used only few ingredients in this recipe, plus the spices used in this recipe are simple and easily available at every household. There is no grinding, no roasting or frying of masala. That's the simplicity of this recipe. After all we want to cook our food as quick as possible and enjoy our meal with our family, don't we?
I have used pomfret in this Fish fry recipe, but you can use seer fish, prawns or mackerel with the same masala.
So without any further ado, let's check out the recipe.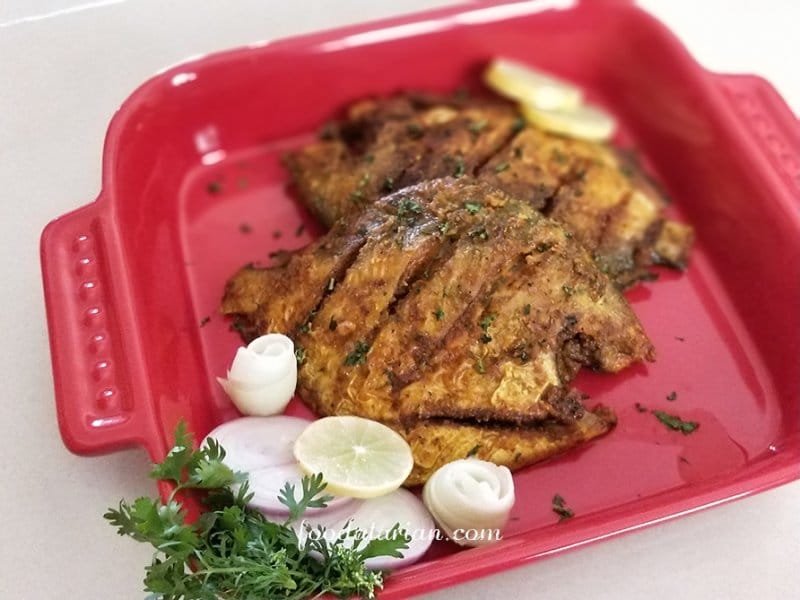 (Visited 1,245 times, 1 visits today)
Steps
Marinating the fish

Place the fish in a large plate and spread the spice mix all over them. Rub them nicely till spice mix coats them well. Make sure the spice mix enters the crevices and slits of the fish as well.

TIP: Marinate the fish for 6-8 hours into the refrigerator to yield a delicious fried fish. Just make sure bring them to the room temperature before frying.

But if you are in crunch of time (duh! we all usually are) leave them atleast for 15 minutes. In that case, no need to refrigerate.

Coating the fish

Frying the fish

In a wide pan, add 3-4 tbsp oil. Let it heat on medium flame for 2 minutes.

Place each fish carefully in the hot oil. Let the fish cook for 3-4 minutes on medium flame. Then check if the bottom side of the fish has turned crisp and brownish is colour, Flip over carefully, with a tong or spatula. Cover the pan at this stage and lower the heat for 3 minutes. Then uncover and check whether the fish is cooked.

TIP: To check whether the fish is cooked, prick it with a fork and if the flesh is soft and flaky the fish is done.

Turn the flame to medium and continue to cook fish on medium flame for just half a minute more and then transfer it to a serving platter.