Red Hot Chicken Gravy
Ingredients:
400gms chicken pieces of your choice; washed and slit,
4-5 Kashmiri dry red chillies, (for color)
3-4 Dry red chillies, (for spice)
1 medium size onion,
1 large tomato; pureed,
2 tsp garlic paste,
3/4 tsp coriander powder,
1 tsp garam masala or chicken masala,
Salt to taste,
Butter or ghee for frying,
Chopped coriander leaves to garnish.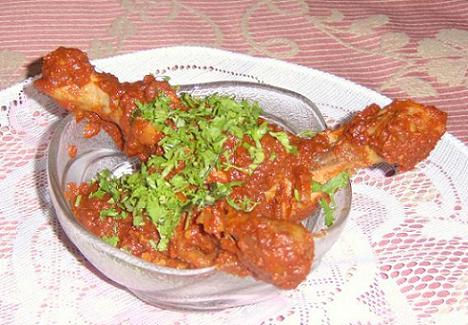 Method:
Soak the red chillies is warm water enough to cover them, for 15-20 minutes. Then drain them and grind them alongwith the onion to a fine paste. Heat butter or ghee in a heavy bottom deep pan. Add the chilli and onion paste to it and cook on low-medium flame, covered for 3-4 minutes. When this masala starts leaving oil add the tomato puree and garlic paste, stir and again cover and cook for 5-7 minutes. Keep stirring at regular intervals to avoid the masala from sticking to the bottom of the pan. Uncover and add coriander powder, chicken/garam masala, salt and cook uncovered for 2 minutes. Now add the water that was drained out of the chillies, mix and add the chicken pieces. Mix thorougly so that all the pieces are covered well with the masala. Cover with a lid and let the chicken cook on low-medium flame for 5 minutes. Add more warm water as required to form a thick gravy and then cover and cook for around 15 minutes or till chicken is tender and cooked. When done, put off the flame, transfer to serving dish, garnish with chopped coriander leaves and serve hot with chapatis or parathas.
TIPS:
1. Kashmiri red chillies give a nice red color to the gravy. The other dry red chillies give the taste. You can adjust the number of chillies according to your taste buds.
2. If you eat less spicy then reduce the number of chillies and add fresh cream to the recipe when the gravy is almost ready, this gives a rich taste to the gravy.
(Visited 5 times, 1 visits today)