Ridge Gourd Vegetable Curry – 15 Minute Recipe
This is one of the most simple recipes of curry I have made. My mom-in-law taught me this recipe. She told me, she used to make it often when in a hurry to go to University (where she taught). As a working woman, I too find it tough to prepare elaborate curries in the morning. So I too started making this one.
'Ridge gourd' is known by different names in different regions of India. In Hindi it is called 'Toree' or 'Turai', in Marathi 'Dodka' or 'Shirale', in Kannada 'Heeraikai' and 'Peerkangai' in Tamil.
Ingredients:
1/2 kilo ridge gourd; washed, peeled (do not throw away the peel, use to make ridge gourd peels chutney) and cut into 1/2 inch thick slices,
2 onions; halved and sliced,
2 tomatoes; halved and sliced,
1/2 tsp jeera (cumin seeds),
1/2 tsp turmeric powder,
1 tsp red chilli powder,
Salt to taste,
Oil for tempering.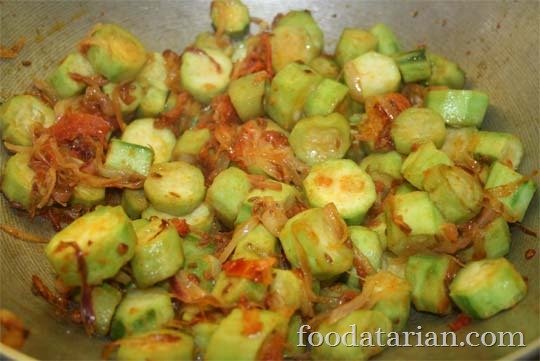 Method:
Heat 4-5 tbsp oil in a kadhai. Add jeera and let it splutter. Then add sliced onions and sauté until they become translucent. Then add turmeric and red chilli powder. Fry for a minute and then add tomatoes. Cook covered until tomatoes soften. Then add sliced ridge gourd, stir, cover and cook for 5 minutes or until the vegetable has cooked. Not need to add water while cooking as ridge gourd tends to leave a lot of water while cooking. Lastly season with salt and garnish with chopped coriander leaves.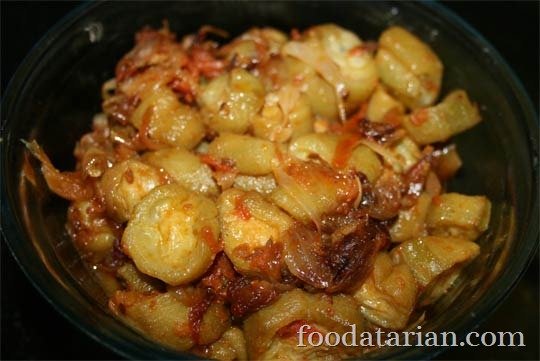 (Visited 42 times, 1 visits today)