Roasted Herbed Turkey for Thanksgiving
Can you have a Thanksgiving without a deliciously herbed and perfectly roasted turkey….naah! Heres a simple recipe for this Thanksgiving. Enjoy!
Ingredients: (Make 10 servings)
1 12-14 pound whole turkey,
1/2 cup fresh rosemary sprigs; chopped,(or 1/4 cup of dry rosemary)
1/2 cup sage leaves,
1/4 cup fresh thyme, (or 1/4 cup of dry thyme)
1 tsp grated lemon zest,
Salt and pepper to taste,
1/2 cup butter melted,
1-2 cups of chicken broth,
1 stalk celery; halved,
Few carrot sticks,
1 small onion; halved.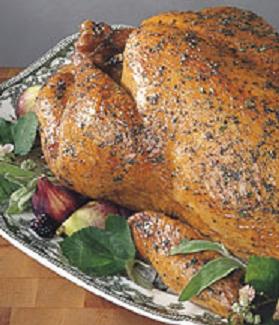 Method:
Preheat the oven to 325° F (165° C).
Remove the neck, giblets and other organs from turkey. Reserve and use that for the gravy. Rinse the turkey inside and out with cold water and pat dry. Sprinkle salt in the cavity of turkey.
In a mixing bowl, combine together butter, herbs, lemon zest and pepper.
Slightly loosen the skin of the turkey by gently sliding your hand under the skin. Then using you finger, take a generous amount of butter mixture and smear on each half of the breast. Smear some mixture evenly near the neck, skin of the breast and all over. Stuff some of the mixture in the main cavity. Stuff the neck cavity with carrot sticks, celery stalk and onion. Pull out some excess skin near the neck to seal, and secure it with toothpicks or skewers.
Bake at 325° F (165° C) for about 1 hour. Then add a cup of chicken broth to the pan, rotate the pan and continur to roast until meat in the thickest part of the thigh registers about 180° F on the meat thermometer. The turkey will take about 3 to 4 hours, depending on size of the turkey and the oven. Later transfer the turkey to a large platter and cover and let it stand 15-20 minutes before carving. Serve with gravy.
(Visited 11 times, 1 visits today)