Sabudana Wada (Sago Dumplings)
Sabudana Wada is a Maharashtrian breakfast recipe. An ideal meal at the time of fasts.
Ingredients:
1 1/2 cup sabudana (sago), soaked overnight in water enough to cover the sabudana,
2 large potatoes, boiled, peeled and mashed,
1-2 green chilli (according to taste), finely chopped,
1/2 cup groundnut powder*,
1-2 tsp jeera,
Salt to taste,
Ghee or oil for frying.
Method:
In a large bowl, mix all the ingredients except ghee/oil to form a dough. Make small wadas out of this dough (flat balls)
and keep aside. Now for deep frying heat oil in a kadhai, or if you want to shallow fry heat some oil or ghee in a pan.
Drop in the wadas and fry them on medium flame till they turn golden. Serve with sweetened yoghurt dip. (Recipe available on the website)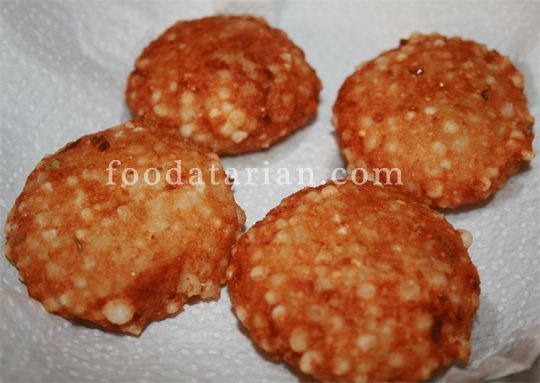 Groundnut powder-
Roast whole groundnuts with chhilka in a kadhai till they turn brown. Cool them and remove the chhilka just by rubbing
them between your palms. Now coarsely grind these groundnuts. Groundnut powder is now ready to use in any recipe you
wish.
(Visited 7 times, 1 visits today)